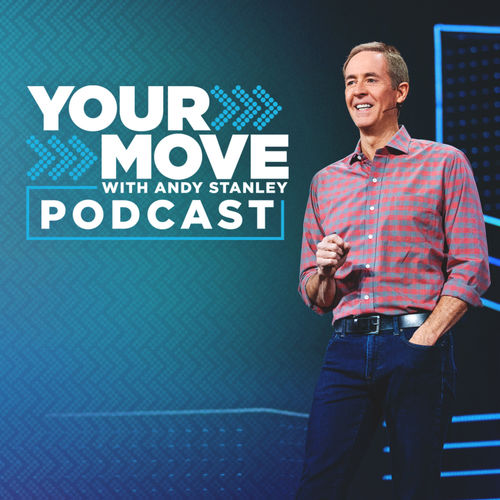 Your Move with Andy Stanley Podcast
Religion-and-spirituality
Welcome to the Your Move with Andy Stanley podcast. In this weekly 30-minute message from Andy, you will discover how to make better decisions and live with fewer regrets. So check out our website at www.yourmove.is for additional ways to watch, listen, and connect.
Popular episodes
Heroes
Dec 3 • 28:31
A hero saves the day, and sometimes a hero saves the planet. That makes heroism seem inaccessible to most of us. But with a single question, we can access our heroic potential....
The Secret to Contentment
Nov 26 • 29:22
There's always going to be someone who seems smarter, richer, or funnier than us. So how do we avoid the endless cycle of comparison and competition?...
Give Thanks
Nov 19 • 28:16
Ingratitude stings. The tricky part is that ingratitude isn't an active thing; rather, it is a lack of action. But unexpressed gratitude has the potential to leave devastating blows in relationships....
Is Christianity Good? Part 2 - "What Happened?"
Nov 12 • 28:50
First-century Jesus followers were convinced the message of Christianity was good news of great joy for all people. So why has it become it so easy to walk away from?...
Is Christianity Good? Part 1 - "Good News/Bad News"
Nov 5 • 29:01
Many people wonder if Christianity is true, but for more and more people, the most important question is, "Is it actually good?"...
"How to Win at Life"
Oct 29 • 28:02
We all want to win, but each of us defines winning differently. How do you define success? ...
Better Decisions, Fewer Regrets, Part 5 - "The Relationship Question"
Oct 22 • 28:56
Our decisions can impact more than just ourselves; that is probably why we say, "Treat others the way you want to be treated." But in a world full of deceptive voices, how can we lay a foundation for these types of mutually beneficial relationships?...
Better Decisions, Fewer Regrets, Part 4 - "The Maturity Question"
Oct 15 • 28:57
Our natural inclination is to live as close to the line as possible, often attempting to get away with as much as we can without facing the consequences. This is a slippery slope, so what can we ask ourselves to step away from the edge?...
Better Decisions, Fewer Regrets, Part 3 - "The Conscience Question"
Oct 8 • 28:30
We all experience those "red-flag moments" when something doesn't sit quite right within us. The longer we ponder the decision we are about to make, an internal tension grows. Are you paying attention to that tension?...
Better Decisions, Fewer Regrets, Part 2 - "The Legacy Question"
Oct 1 • 28:39
Decisions lead to choices, choices lead to responses, and responses lead to permanent marks in the story of your life. What story do you want to tell?...