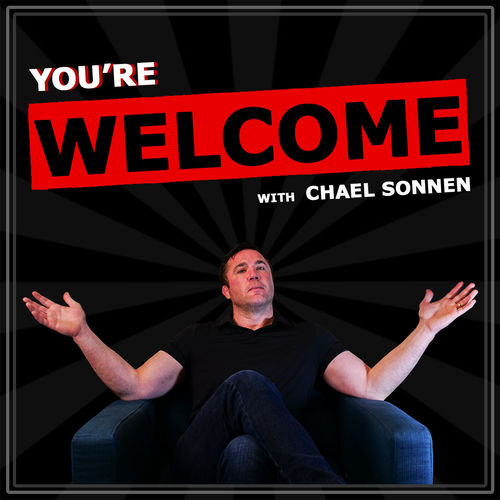 You're Welcome! With Chael Sonnen
Sports
Chael Sonnen, MMA superstar, American gangster...and bad guy...speaks his mind, drops knowledge and sounds off as the absolute authoritative voice in the world of combat sports. Join Chael as he runs life inside and out of the Octagon, with inside knowledge and unrivaled perspective.
Popular episodes
Title Fight vs. Money Fight, a Holloway-McGregor Idea & Could Poirier Move to 170?
Nov 26 • 48:21
Dustin Poirier says he'd consider a move to 170 lbs. after next month's lightweight title fight. Do we believe him? And what would that mean for the futures of both him and Charles Oliveira? Chael discusses. Then, Chael dives into the possibility of a Max Holloway-Conor McGregor catchweight fight (18:20), a possible opponent for Darren Till (26:52) and comments made earlie...
Stipe Speaks on Jones, Khamzat's Wrestling Video & Dan Hooker Drops to 145
Nov 24 • 53:29
Chael begins today's show by recapping Ketlen Vieira's win over Miesha Tate and the emergence of Sean Brady at 170 lbs. Plus, Chael talks about the video that dominated MMA Twitter this weekend (18:38), the possibility of a Colby Covington-Jorge Masvidal season of The Ultimate Fighter (27:02), Stipe Miocic's recent comments on fighting Jon Jones (35:22), Dan Hooker's decis...
Possible Matchups for Khamzat, Vieira vs. Tate Prediction & Do Fans Want Poirier-McGregor 4?
Nov 19 • 42:27
Chael puts his beef with Conor McGregor aside to talk about next month's lightweight title fight and how its result might affect the perception of McGregor and the possibility of a fourth Dustin Poirier fight down the line. Plus, Chael speculates on future opponents for Khamzat Chimaev (16:55) before breaking down this weekend's women's bantamweight main event between Ketl...
The Chael-Conor Twitter Battle, Another Max Holloway Clinic & Volkanovski Gets Played
Nov 17 • 43:14
Despite all of the exciting fights that happened this weekend, Chael begins today's show by breaking down his recent Twitter beef with Conor McGregor. Then, Chael discusses Max Holloway's convincing win over Yair Rodriguez (14:25) and what it means for his hopes of a trilogy with featherweight champion Alexander Volkanovski (26:34). Plus, Chael proposes a lightweight fight...
Edwards vs. Masvidal Is Off, Max Holloway's Trajectory & Chandler Calls Out McGregor
Nov 12 • 53:47
Usman's Growing Legacy, Rose Proves She's the Best, Gaethje's Title Hopes & a Dream Matchup
Nov 10 • 52:46
With UFC 268 officially in the books, Chael gives you his post-fight reaction, breaking down Kamaru Usman's decision win over Colby Covington and what it means for Usman's growing legacy. And could Khamzat Chimaev be next for the welterweight title (13:55)?  Plus, Chael discusses Justin Gaethje's bloody win over Michael Chandler, if Gaethje deserves a lightweight title sho...
UFC 268 Preview: Usman's Motivation, A Strawweight War & Gaethje vs. Chandler Expectations
Nov 5 • 40:10
Before Chael heads off to New York City for UFC 268, he gives you his official predictions for Kamaru Usman-Colby Covington 2 (26:04), Rose Namajunas-Zhang Weili 2 (17:45), and the lightweight bout between Justin Gaethje and Michael Chandler (13:21). Plus, Chael talks about a recent Conor McGregor video and the next steps for Islam Makhachev and Khamzat Chimaev following t...
Khamzat's Huge Return, Makhachev's Path to Stardom & What's at Stake for Colby Covington?
Nov 3 • 57:02
A WILD UFC 267 leaves Chael wondering about the incredibly bright futures of Islam Makhachev (24:13) and Khamzat Chimaev (4:52), and if Nate Diaz might potentially be in the future for Chimaev (47:33). Plus, Chael discusses Glover Teixeira winning the 205 lb. title and an awesome interim bantamweight title fight (11:07). Chael also looks ahead to Saturday's Kamaru Usman-Co...
UFC 267 Preview: Glover's Title Shot, Islam's Potential, Yan Speaks & Khamzat's Return
Oct 29 • 48:22
Chael gets you set for tomorrow's massive card by walking you through all the biggest storylines of UFC 267. Can 42-year-old Glover Teixeira unseat champion Jan Blachowicz? Will Petr Yan win the interim bantamweight belt and refuse to fight Aljamain Sterling next? Is this Islam Makhachev's big moment? And what will Khamzat Chimaev look like after such a long layoff? Chael ...
Nate Diaz's Contract, Angry Marvin's Big Win & Costa's 205 Future
Oct 27 • 52:36