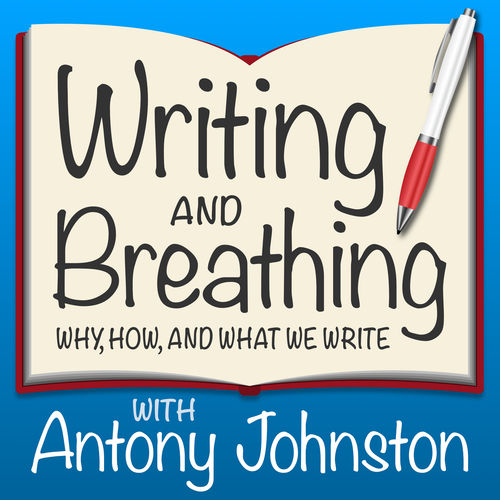 Writing and Breathing
Arts • Fiction • Tv-and-film
A podcast about why, how, and what we write. Bestselling writer Antony Johnston talks frankly with other authors about their motivations, methods, and processes. A must-listen for anyone interested in the craft and business of writing.
Popular episodes
32: Jenni Hill
Jul 19 • 53:06
Jenni Hill (Editorial Director of Orbit Books) joins Antony for our first episode with a non-author, to talk about being a book shepherd, how acquisitions can be beauty contests, and why the job involves much less actual editing than you might think....
31: Simon Scarrow
Jun 7 • 01:01:09
Simon Scarrow (Eagles of the Empire, Blackout) joins Antony to discuss balancing research with the needs of a story, how every reader creates their own version of a book, and why Italian tomatoes still haunt him....
30: Jody Houser
May 10 • 01:06:11
Jody Houser (Critical Role, Doctor Who) joins Antony to talk about finding new directions in existing properties, whether thinking about writing counts as writing, and getting irate about notes....
29: Helene Wecker
Apr 19 • 01:12:50
Helene Wecker (The Golem and the Djinni, The Hidden Palace) joins Antony to discuss telling details, research that both enlightens and frustrates, and pulling the spine out of a manuscript....
28: Vinay Patel
Mar 22 • 01:14:07
Vinay Patel (Doctor Who, Murdered by My Father) joins Antony to talk about using practice to push yourself, focusing on nailing the parts only you can do, and the balance between empathy and sympathy....
27: Bonnie MacBird
Mar 1 • 01:06:07
Bonnie MacBird (Tron, Sherlock Holmes) joins Antony to discuss applying cinematic writing to prose, why truth is important even in fiction, and the joys and dangers of writing a beloved character....
26: Joshua Hale Fialkov
Feb 1 • 01:12:12
Joshua Hale Fialkov (Chicago Med, The Bunker) joins Antony to talk about collaboration in TV, being too mainstream for indie (but too indie for the mainstream), and solving problems instead of creating them....
24: Robert Muchamore
Jan 4 • 01:05:17
23: Toiya Kristen Finley
Dec 11 • 01:07:01
Toiya Kristen Finley (Outer Rims, The Game Narrative Toolbox) joins Antony to discuss seeing stories in her head, building stories on epiphanies, and imagining fuzzy apples....