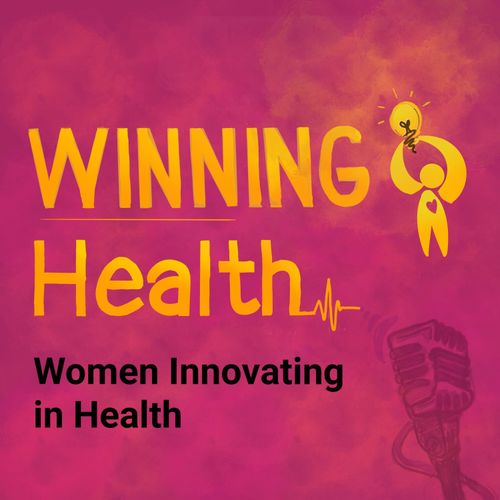 Winning Health
Health-and-fitness • Business
On Winning Health, hosts Namratha Potharaj and Monet Slinowsky interview successful leaders in healthcare across academia, industry, regulation, law, medicine, and investing, with the goal of inspiring and empowering a new generation of women leaders in the field of healthcare innovation.
Popular episodes
Winning Health Season 1 Highlights: Favorite Moments, Personal Accounts, and Listener's Thoughts
Sep 13 • 37:58
In this episode of Winning Health, Monet and Namratha converse on some of their favorite moments from guests in this season, talk about their personal experiences that were critical to their journey and growth in the STEM field, and key takeaways as they relate to the healthcare innovation pathway. Monet and Namratha also respond to thoughts and comments submitted by fello...
Cynthia Yee, Principal of Vensana Capital Firm: On The Art & Science Behind Healthcare Investing, Embracing Unconventional Career Pathways, and Building the Courage to Speak Up
Apr 19 • 30:53
In this episode we interview Cynthia Yee, Principal at Vensana Capital Firm. Cynthia shares her perspective on the role of healthcare investing and venture capital on healthcare innovation, her insight on how she makes the decision to make an investment of over a million dollars into a new venture, and her journey into the venture capital world. Cynthia also shares her gro...
Krista Donaldson, CEO of Equalize Health: On What It Takes to Impact 1 Million Lives, The Role of Sustainable Design in Global Health, & Finding Mentorship from Unexpected Sources
Apr 5 • 54:10
In this episode, Krista Donaldson, CEO of Equalize Health, a not-for-profit medical technology company discusses what it took to reach the milestone of treating over 1 million patients with the devices developed and implemented via her company ( including ReMotion Knee, a prosthetic knee for above-the-knee amputees, and Brilliance, a phototherapy device for treating neonat...
Dr. Karen Talmadge: On the Entrepreneurial Journey - From Investment to Acquisition & Standing Up for What You Believe In
Mar 22 • 25:16
Have you ever wondered how startups in healthcare are built and what it takes to get an idea from the ground into a product or service that is getting into the hands of users and generating both clinical and monetary value? In this episode, you will get to hear the first-hand experience of establishing a startup from Dr.  Karen Talmadge, who led the effort to take a revolu...
Winning Health with Karen Talmadge Part I
Mar 16 • 24:46
In this episode, we speak with Dr. Karen Talmadge, scientist, entrepreneur, and inspiring veteran of the medtech industry on the board of numerous exciting startups. She shares her experience working in the lab of a Nobel Laureate as a Ph.D. student, her journey as a scientist as she focused on bridging the gap between scientific research and its applications towards socie...
Winning Health with Aleisha Rozario
Mar 1 • 43:29
In this episode, we dig deeper into how Jhpiego is working to create an impact through our interview with Aleisha Rozario; Jhpiego's Country Director of Lesotho. Aleisha shares with us how she and her team uncovered an insight regarding HIV prevalence in Lesotho that led her to take a novel approach to preventing HIV transmission by focusing on the unmet needs of a forgott...
Winning Health with Leslie Mancuso
Feb 15 • 42:11
In this episode, we interview Dr. Leslie Mancuso; President and CEO of Jhpiego, an international nonprofit health organization affiliated with Johns Hopkins University. Since it's founding in 1974, Jhpiego has been collaborating with frontline workers to create and implement transformative and lifesaving healthcare solutions around the world. In this interview, we discuss ...
Winning Health: Winning with Patricia Davidson
Jan 25 • 44:48
In this episode, we interview Dr. Patricia Davidson, Dean of the Johns Hopkins School of Nursing, where we discuss the necessity of equity in healthcare, the impact of COVID-19 on nursing education, and the perils of feminizing and undervaluing "soft" skills. We also hear her inspiring story on how she went from a college dropout to the dean of a top-ranked nursing program...
Winning Health with Nimmi Ramanujam
Jan 11 • 45:02
In this episode, we interview Dr. Nimmi Ramanujam; a Professor of Biomedical Engineering at Duke University and director of the Center for Global Women's Health Technologies. In the interview, we discuss domestic and global health inequities, strategies to disrupt traditional models of care for women to empower women, innovation in cervical cancer diagnosis, & the principl...