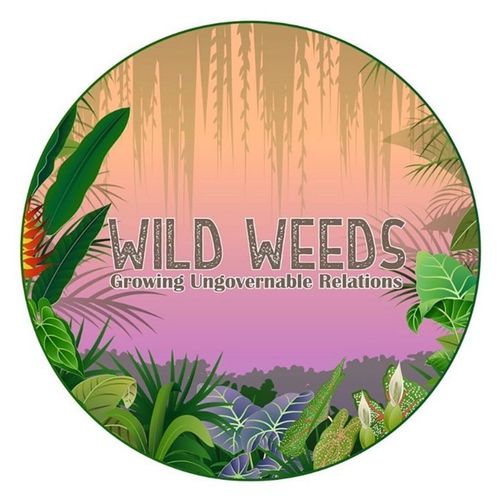 Wild Weeds Podcast
Society-and-culture • Health-and-fitness
Wild Weeds: Growing Ungovernable Relations is a podcast about exploring the relations between ourselves, others, and greater than human beings. Follow us in IG @wildweedspodcast, support us in Patreon.com/wildweedspodcast and check book up+get transcript+contact us at wildweedspodcast.com!
Popular episodes
Episode 5 - It's Written in the Stars feat. Rise Up Good Witch
Oct 26 • 40:23
In this episode, Corrina Rosella (they/them,) host of the podcast Rise Up! Good Witch, takes all of us astrology queers deep into what's written in the stars for our life time. From the chart of the United Fakes of America to the 2020 uprisings, Corrina let's us know that our best bet to survive is to be the best versions of ourselves and and  to fight for each other. You ...
Episode 4 - Mutual Aid, Mycelium, and My Boundaries
May 17 • 50:51
Loba and Carino take a you through their beginning experiences of COVID, how mutual aid has begun to have a greater, more intentional place in their lives, as well as how we can learn from mushrooms on how to care for eachother now and always. This episode features a new segment "Coping with Carino" focusing on mental health and boundaries. Special guest, Mario from POC Fu...
Episode 1 - Welcome to Wild Weeds!
Feb 24 • 38:08
 In this episode Carino and Loba introduce themselves and welcome you all to the journey of Wild Weeds were we will explore all types of relations. This episode features two segments, Carino and Loba's "Doctora Corazon," where an anonymous babe asks us our opinion on moving in with their partner before they're ready as well as Carino's segment "I Like it with the Lights On...
Episode 3 - Asexual spectrum and Intimacy
Feb 24 • 47:53
Carino and Loba discuss the complexities, conflicts, as well as beautiful intimacies of being in a relationship as a couple with one person on the asexual spectrum and the other person being allosexual. This episode also features Loba's segment "Your New Age Shit Will Not Save You," exploring and critically thinking about the idea of "divine femininity" from transmisogyny ...
Episode 2 - Polyamory w/ guests Sasha + Tracee from QTIPOC Poly LA
Feb 24 • 43:49
Carino and Loba invite special guests Sasha (IG: @earthwindandflowers_) and Tracee (IG: @mamawolff) of POC Camp and QTIPOC Poly LA to discuss what it means to be in ethical non-monogamous relationships and how we all move through them. This episode also features our Doctora Corazon segment, guest answered by Sasha and Tracee about asking for your needs to be met and settin...