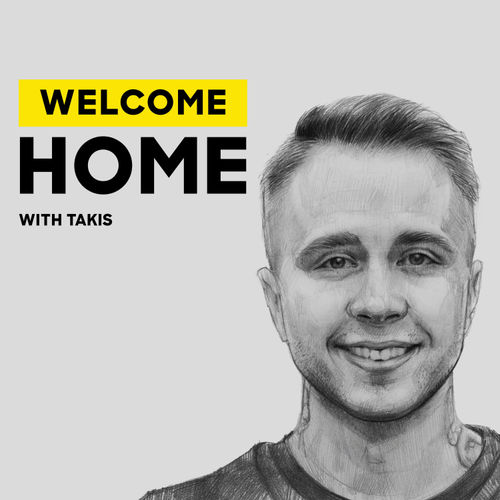 Welcome Home with Takis
Society-and-culture
Conversations surrounding the future of technology, science, art, music, mental health, philosophy, and a dash of true-crime chaos.
Popular episodes
Understanding & Treating Addiction: Dr. Anna Lembke (Dopamine 101)
Nov 29 • 28:26
Understanding & treating addiction with Dr. Anna Lembke. I tried to make this interview my version of "Dopamine 101" to better understand & treat addiction. Dr. Anna Lembke is the author of Dopamine Nation: Finding Balance in the Age of Indulgence. ...
Alien Encounters, Hard Science & UFOs (Ralph Blumenthal)
Nov 22 • 37:55
Ralph Blumenthal is the author of The Believer: Alien Encounters, Hard Science, and the Passion of John Mack. John Mack was a Harvard Psychiatrist obsessed with alien abduction and the big question - what do we know about UFOs....
Why Do We Feel Nostalgia? (Dr. Clay Routledge)
Nov 15 • 35:54
Why do we feel nostalgia? ...
BITCOIN: What Worries Me & Excites Me Right Now (Andreas M. Antonopoulos)
Nov 8 • 21:19
Andreas M. Antonopoulos explains what worries & excites him most about Bitcoin and other cryptocurrencies. ...
Are Narcissists Happy? (Psychologist W. Keith Campbell)
Nov 1 • 12:27
Psychologist W. Keith Campbell breaks down the different forms of narcissism and answers the question - are narcissists happy? ...
ADHD and OCD? (Obsessive Compulsive Disorder)
Oct 25 • 40:59
Greg Schmaus explains what is ADHD and what is OCD? ...
Episode 50! How to Start a Podcast for Beginners (7 Lessons)
Oct 18 • 18:17
To celebrate 50 episodes of The Welcome Home Podcast, I wanted to share some of the things I've learned about podcasting on this short but fun journey. Are you considering starting a podcast in 2021? This solo podcast will cover how to start a podcast for beginners.
When I started this podcast project I had no idea where to begin, so I compiled a quick guide just for you wi...
What Happened in Afghanistan? (Security Specialist Will Geddes Explains)
Oct 11 • 45:38
What Happened in Afghanistan? Security specialist, Will Geddes explains what went wrong in Afghanistan. ...
Najwa Zebian: How to Love Yourself
Oct 4 • 32:53
Najwa Zebian explains how to love yourself and how to find your confidence. ...
The Artist Journey: Stephen Jenkinson (Part 2)
Sep 27 • 39:56
Stephen Jenkinson explains the artist journey, the wisdom of little creative successes, and how to overcome resistance. ...