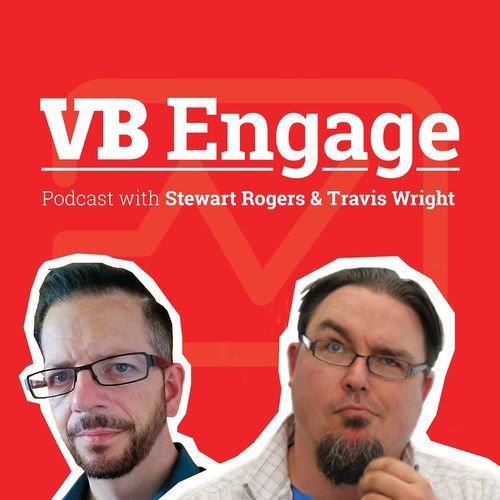 VB Engage - Mobile, Marketing, & Technology Podcast from VentureBeat
News • Business
A brutally honest look at marketing and mobile engagement, plus interviews with some of the brightest minds around technology, social media, marketing technology, MarTech, and customer experience. Hosted by VentureBeat's Stewart Rogers and Travis Wright.
Popular episodes
Nirmal Mehta, emerging tech, and VR vacations for everyone
Dec 18 • 32:56
This week, Travis and Stewart discuss the latest in VR experiences including a VR vacation simulator -- or VRacation simulator, if you like Travis' made-up words. They also discuss VR's marketing problem, and European standards for watching ads in VR. Yep, it's a VR-fest this week....
Mike Wikan, the singularity, and the first blockchain smartphone
Dec 15 • 32:58
This week, Travis and Stewart interview Mike Wikan on the future of emerging technologies and what they're going to mean for both our daily lives and how organizations, businesses, and governments will be affected....
Peggy Anne Salz, mobile futures, and the crazy world of cryptocurrencies
Nov 29 • 29:23
This week, Travis and Stewart discuss the latest in A.I.-powered apps and show that you don't have to be a massive organization to use artificial intelligence across your product or service. They also work their way through a list of 100 cryptocurrencies and explain what these blockchain-powered tokens mean for the future of payments....
Steve Rayson, hacking Alexa, and how A.I. writes better headlines than you
Nov 22 • 36:24
This week, Travis and Stewart interview the awesome Steve Rayson of Buzzsumo, which has analyzed over 100 million headlines to learn what works, what doesn't, and what converts....
Robert Rose, epic content, and Facebook's myriad of money making methods
Nov 8 • 34:15
This week, Travis and Stewart talk about A.I. and the Internet of Things (still the worst tech term in existence), A.I. and customer service, and two opposing Facebook stories that are united by one common thread - how the social media levitation makes its money....
Erich Joachimsthaler, Amazon Slay, and how computer vision changes everything
Nov 1 • 36:11
This week, Travis and Stewart interview the incredible Erich Joachimsthaler, celebrated branding expert and author. This is one of the most impactful interviews of the year - Erich gives takeaway after takeaway....
Shaul Olmert, Samsung's new toys, and how to grow a community of over 80 million
Oct 25 • 30:34
This week, Travis and Stewart interview the amazing Shaul Olmert, who has grown Playbuzz from scratch to an audience of over 80 million. He tells us what it takes to not only make that possible, but maintain the community he helped build....
Amit Walia, A.I. smarts, and Snapchat becomes useful again.
Oct 18 • 30:56
This week, Travis and Stewart discuss the perils of unlocking phones with your face. Let's just say that Stewart isn't a fan. They then talk about Snapchat's newfound usefulness, location-based marketing, and a big raise for a geographical data company....
Valentin Preobrazhenskiy, ICO fever, and how A.I. took over martech
Oct 9 • 31:57
In this week's news, Travis and Stewart talk about A.I. domination at the Martech conference in Boston, where -- seemingly -- it was the topic on the lips of marketers, speakers, and vendors everywhere. We also highlight an A.I.-powered advertising technology that is making waves: More than $250 million in waves, in fact. Finally, we bring everyone back down to earth with ...
Sean Ellis, hacking growth, and why Amazon's goggles might suck
Sep 27 • 27:57
In this week's episode, Travis and Stewart talk about virtual reality advertising, Intercom's new lead-generation solution, and Amazon's smart goggles, which sound like they might be a terrible idea. Or they might be good. Stewart thinks, either way, that they'll be cheap because Amazon doesn't do premium products....