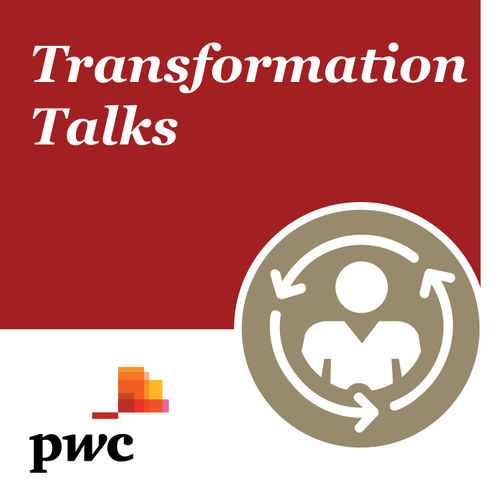 Transformation Talks
News • Government
A PwC podcast series that looks at transformation through the lens of a diverse group of people, each of whom have driven, lived through or studied transformation in their own ways, discussing strategy, leadership, organisation and culture.
Popular episodes
Transformation Talks S1E10 - Treating employees like family
Sep 10 • 22:29
Transformation Talks S1E9 - Transforming for Humanity: how to put a company to the service of humanity
Jul 8 • 31:46
In this episode, Strategy& Partner David Lancefield is joined by Paul Polman, who was the chief executive of Unilever for 10 years until January 2019. In this episode we talk about how Paul transformed Unilever for the good of society through pioneering a new, longer-term approach to shareholder value with sustainability at its core. That included the sourcing of raw mater...
Transformation Talks S1E8 - When transforming at speed and scale, listen to the customer
Jun 3 • 24:25
In this episode, David Lancefield is joined by Xavier Rolet, CEO, CQS who talks about his tenure as CEO of the London Stock Exchange. During his leadership, he scaled up the organisation from £800m to £14 billion through a complete reorganisation, which included acquisitions, new technology and hiring a new leadership team. In this podcast we find out about Rolet's strateg...
Transformation Talks S1E7 - The transition to the future of work
Feb 21 • 19:36
In this seventh episode of Transformation Talks, Strategy& Partner David Lancefield speaks with Lynda Gratton, Professor of Management Practice at London Business School and Bhushan Sethi, Joint Global Leader, People and Organisation at PwC US. Lynda and Bhushan share their views around the forward-thinking 'social pioneers' - as opposed to organisations - being the ones w...
Transformation Talks S1E6 - Staging a transformation, and trusting the executive team
Oct 30 • 26:53
In this sixth episode of Transformation Talks, Strategy& Partner David Lancefield speaks with Dame Moya Greene, former chief executive of Royal Mail. Moya shares her insights on how to approach a complex transformation, drawing on her own experience involving multiple different stakeholders such as unions, government and regulators. She also tells us how, as a board member...
Transformation Talks S1E5 - Learning from startups and achieving better board dynamics
Oct 10 • 27:14
Transformation Talks S1E4 – Why you should involve your whole organisation in the journey
Sep 27 • 35:46
Transformation Talks S1E3 - Putting psychology at the heart of transformation
Aug 28 • 30:52
In this third episode of Transformation Talks, Strategy& Partner David Lancefield is joined by Kathleen Saxton, founder of The Lighthouse Company and Psyched Global. We explore why it's so important for leaders to pay attention to their mental wellbeing throughout transformations: "You can't lead other people unless you are okay. It's about boundaries and, particularly if ...
Transformation Talks S1E2 - How to transform the artistic fortunes of an orchestra
Aug 3 • 39:51
Transformation Talks S1E1 - Keeping your people "alive at work" featuring Dan Cable
Jun 18 • 29:06
In this first episode of Transformation Talks Strategy& Partner David Lancefield is in conversation with Dan Cable, Professor of Organisational Behaviour at the London Business School. Dan argues that while managers need an element of control to get results, there's a real need for empowerment of employees as well, even allowing for creativity and - yes - play. In fact, ou...