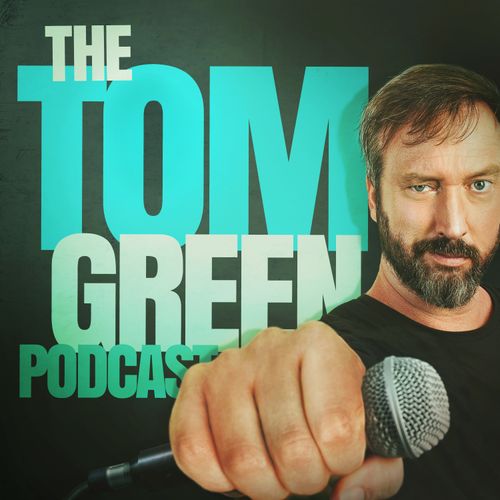 The Tom Green Podcast
Comedy • Tv-and-film
The Tom Green Podcast features Tom speaking with his friends, callers, and other notables about subjects of the day. This off beat look at the news, life, and the human condition is an extension of Tom Green's point of view which he puts on display on his sold out worldwide stand up comedy tours.
Popular episodes
Van Life
Mar 13 • 10:42
This has been a year of experimentation.  I think I am finding the right groove with my youtube.com/tomgreen channel.  And I am now going to start syncing it with this audio podcast here.  Thanks for subscribing to The Tom Green Podcast.  If you want to watch this podcast go watch on Youtube.  This show is produced in my van as I travel around the world.  Listen here and w...
THROWBACK TO MY COLLEGE RADIO SHOW
Jan 1 • 15:31
This is a fun clip from my old radio show that preceded The Tom Green Show back in the 90's.   I started doing this show in high school on a local college station in Ottawa.  The show ran from 1988-1995 and was a lot of fun!   I will be posting more clios of this soon.  Please subscribe to this podcast, and my other podcast The Tom Green Interview.  And stay tuned for more...
SUBSCRIBE TO "THE TOM GREEN INTERVIEW"
Oct 3 • 03:58
Hey gang!  I am asking all of you, my most supportive fans, to please subscribe to my new podcast The Tom Green Interview!  It is available everywhere and will be great!  Weekly!  With awesome interviews!!  The company Audio Up is supporting this and will be an amazing partner to keep us on the air!!  So please subscribe and post episodes on social media!!  I appreciate al...
READY SET FOR VAN LIFE
Sep 4 • 01:04:43
AUGUST 18, 2020 - CODE WORD
Aug 18 • 33:34
AUGUST 17, 2020 #VANLIFE
Aug 18 • 30:11
I have purchased a van that is being camper converted right now. It is equipped with high tech battery and solar power which will allow me to go off the grid and live and exist in wilderness with full power indefinitely. I will be using this electrical capability to run my Podcast and Webovision Studio. I will be posting frequent video and audio updates. I am leaving on th...
VERY BIG NEWS
Aug 7 • 35:48
ANNOUNCEMENT
Aug 3 • 05:49
Space Force - Space Operations Officer
Jul 16 • 58:40
Christopher Duncan is a rocket scientist who met Tom last year at one of his comedy shows and knows a lot about space.  He has been a satellite manager for top secret US military contractors and can only say so much or he will have to kill you.  A fun chat.  This show was broadcast live on youtube.com/tomgreen - Subscribe there and you can call in and talk to Tom and his g...
WEBOVISION LIVE - YOUTUBE.COM/TOMGREEN
Jun 28 • 01:10:06
Hey gang!  Enjoy the podcast while you are driving or walking here as an audio only format.  But make sure you WATCH everythinh at Youtube.com/tomgreen - I have state of the art cameras on everything now and the visual side of this podcast is just getting better and better!  Love you all be safe everyone!  And just know that we are just getting started.  Way more content w...