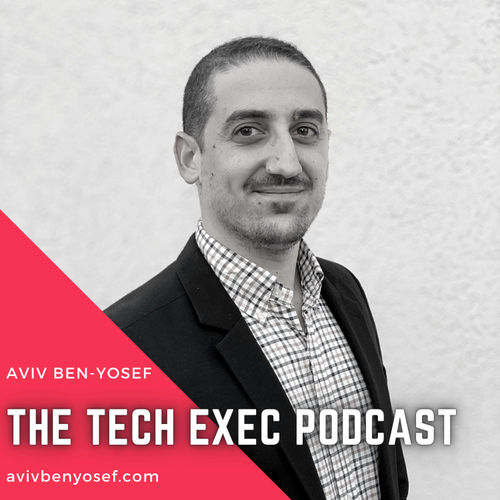 The Tech Exec Podcast with Aviv Ben-Yosef
Technology • Business
A short discussion of leadership improvements you can start using in your startup today as a technical executive, whether you are a CTO, CIO, VP Engineering, VP R&D, and so on.
Popular episodes
Making Use of Common Sense
Nov 30 • 07:35
Is your common sense filter too sensitive? Are you listening to that little nagging voice in your too often? This week's episode is all about embracing the simplicities of life and how we tend to miss out on opportunities to do things the straightforward way. Tune in for a couple of takeaways that will make you a better leader and save your team valuable time....
OKR Pitfalls
Nov 23 • 13:26
It's OKR season, but are you doing it right? In this week's episode, I go through the most common OKR pitfalls that I'm seeing around and how to address them. I also have a special offer for you to make sure that you use them properly next year and learn how to measure your team for effectiveness and impact. Tune in to find out more....
Valuing Your Time
Nov 16 • 07:36
How much is an hour of your time really worth? If you want to get more meaningful work done, you have to think about how you spend your days. We all have just 24 hours a day, yet some get more impactful work done every week. Tune in to this week's episode to hear why....
Redefining Success
Nov 9 • 08:00
Sometimes your team's definition of success might be setting them up to fail. The way we think about our roles and our tasks can be a hindrance, or it can be a catalyst. It's up to you to ensure the right alignment. Tune in to this week's episode to find out more....
What Are Your Intentions?
Nov 2 • 07:48
When you don't know where you're headed, no wind is a good wind. In this episode, we tackle the main archetypes of the tech executive role, how to choose where you should be aiming your focus, and why it affects the team around you as well....
Budgeting Tricks for Headcount Planning
Oct 26 • 09:13
Being responsible with your budget doesn't mean that you cannot use the same creativity you'd use when tackling any other problem. As we're in budgeting season, make sure to avoid these three common pitfalls and set yourself up for success in 2022....
Spotting Delegation Opportunities
Oct 19 • 06:53
Your leverage relies on your ability to ensure you're not getting sucked into day-to-day minutiae. Many executives need to reevaluate where their time is being invested as they grow with their organizations. Here's an exercise my clients have found useful in the past for spotting the best opportunities to delegate some more....
Thinking in Results
Oct 12 • 07:33
Why do you even bother with a big rewrite? Is there a customer that will pay you more for having happier engineers? In this episode, I cover the difference in thinking about the same problem when I ask the CTO as opposed to the CEO. Tune in and learn why it matters and how to align your mindset better—in seven minutes....
Work Visibility
Oct 5 • 08:27
If you build it but no one knows, will they come? This week's podcast episode is about the common issues that arise when we're playing it humble and fails to make our work visible and public. Making sure people know what you're doing doesn't mean that you're just trying to get credit! Tune in and let me know what you think....
Tunnel Vision
Sep 28 • 05:55
Sometimes doubling down on the way you thought things should work is just throwing good money after bad. How is a missed PCR test similar to executives falling down a rabbit hole? Check out this week's quick episode to learn how to spot tunnel vision even when you don't have a coach to help you notice it....