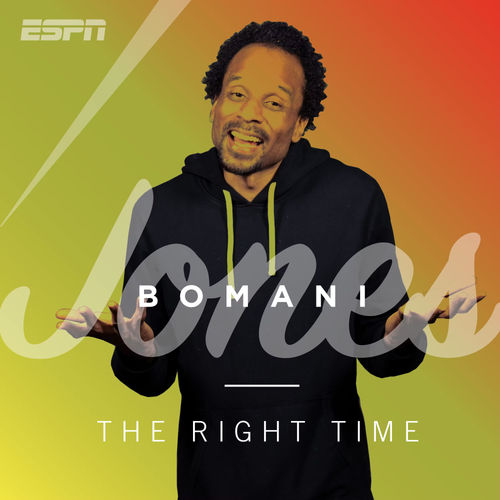 The Right Time with Bomani Jones
Sports
Bomani Jones weighs in on sports, pop culture, social topics and more, with your comments on Mondays, friends of the show on Wednesdays and Dominique Foxworth on Fridays.
Popular episodes
Introducing "Haters" from Man in the Arena
Dec 4 • 30:00
Whether you love him or hate him or are somehow completely indifferent, you've probably spent at least some of the last 20 years thinking about Tom Brady. Brady has altered friendships, families and communities. He's changed the trajectory of careers and reputations, enabled fairy tale dreams to be both realized and dashed. 'Man In the Arena' is a new 10-part series from E...
Foxworth Friday: Thanksgiving, 'Africa' Variant, CFB Coaching Carousel
Dec 3 • 47:16
Spencer Hall talks Lincoln Riley to USC, Brian Kelly to LSU
Dec 1 • 46:29
Great Expectations
Nov 29 • 48:41
Bomani Jones shares his thoughts on Lincoln Riley leaving Oklahoma to become the head football coach at USC and why it is truly unprecedented (1:33). Plus, Bo questions Celtics C Enes Kanter's motives after taking shots at LeBron James and changing his last name to "Freedom" (15:18), an IYHH including the arrival of "Popeye's" in England (25:54) and your voicemails from th...
Roy Wood Jr. talks high school NFT's, HBCU football rivalries and more!
Nov 24 • 41:12
'King' Richard
Nov 22 • 48:11
Bomani Jones breaks down the "fight" between the Lakers and Pistons, as well as why we don't see our favorite players "scrapping it out" anymore (1:36). Bo also discusses the film about Venus and Serena Williams' father "King Richard" (13:18). Plus, he gets to an IYHH including "Every Breath You Take" by The Police as the "perfect" song (23:34), and hears your voicemails f...
Foxworth Friday: The progress of Black QB's, Crypto.com Arena
Nov 19 • 47:53
Bomani Jones and Domonique Foxworth discuss the progress of Black Quarterbacks across the NFL, including the marquee matchup of Dak Prescott and Dallas against Patrick Mahomes and Kansas City as well as why Cam Newton is the "O.G." back in Carolina (6:18). Plus, the Lakers have reportedly sold the naming rights for their arena in Downtown Los Angeles to "Crypto.com" (35:10)....
Nick Wright on Warriors-Nets, NBA MVP, Patrick Mahomes
Nov 17 • 48:41
Bomani Jones and Nick Wright discuss the Warriors dominating the Nets in Brooklyn, including James Harden's difficulty getting to the foul line this season, Kevin Durant's level of play and the possibility that Steph Curry may lead Golden State to the title (7:12). Plus, the NBA MVP conversation (26:20), as well as the ups and downs of QB Patrick Mahomes and Kansas City (3...
It's an Event
Nov 15 • 52:32
Bomani Jones weighs in on the lack of re-evaluation that occurs with NFL QB's Russell Wilson and Baker Mayfield, as well as Cam Newton's return to Carolina (1:42). Plus, Silk Sonic vs. Taylor Swift (16:53), an IYHH including the "war on urban dirt biking" (28:12) and your voicemails from the time you saw someone "try" to get fired a la Odell Beckham Jr. in Cleveland (39:36)....
Foxworth Friday: Atlanta's Parade, narrative around OBJ, Jokic Brothers
Nov 12 • 43:56