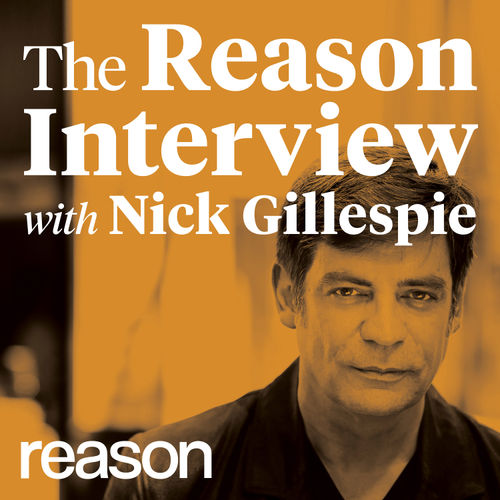 The Reason Interview With Nick Gillespie
News
Want to know what comes next in politics, culture, and libertarian ideas? <em>Reason</em>'s Nick Gillespie hosts relentlessly interesting interviews with the activists, artists, authors, entrepreneurs, newsmakers, and politicians who are defining the 21st century.
Popular episodes
Rachel Laudan: Why Thanksgiving Dinner Is Served All at Once
Nov 24 • 49:37
Have you ever stopped to think about why all the food at the traditional Thanksgiving dinner gets put out at the same time? No courses and no servers—just a culinary dump of turkey and all the fixings onto the table and an ensuing feeding frenzy. ...
John McWhorter: How To Defeat 'Woke Racism'
Nov 17 • 01:06:58
In his bestselling new book, Woke Racism: How a New Religion Has Betrayed Black America,New York Times columnist and Columbia University linguist John McWhorter argues that the ideas of Robin DiAngelo, Ibram X. Kendi, and The 1619 Project undermine blacks by sharpening racial divides and distracting from actual obstacles to real progress....
Nicholas Christakis: How To End the Covid Pandemic
Nov 10 • 01:07:05
Garry Kasparov: Greatest Soviet Chess Champion on the Awful System That Created Him
Nov 3 • 01:29:38
Ethan Nadelmann: How To End the Drug War (and What Comes Next)
Oct 27 • 01:12:38
Andrew Yang: 'Political Violence Is Becoming More and More of an Inevitability'
Oct 20 • 40:41
Andrew Yang's run for the Democratic Party's presidential nomination didn't last all that long, but his support for a universal basic income (UBI) pushed that arcane topic to the center of ongoing policy debates about how best to help Americans dislocated by technological and economic change....
Steven Pinker: Rationality Has Made Us Richer, Kinder, and More Free
Oct 13 • 57:00
How Afghanistan Became the First 'Feminist' War
Oct 6 • 01:36:20
Karla Vermeulen: Inside the Mind of 'Generation Disaster'
Sep 29 • 01:23:23
Robby Soave: Today's Bipartisan Tech Panic Is Yesteryear's Freakout Over Video Games
Sep 22 • 56:09
Everywhere you turn these days, big tech companies are under fire. Instagram's supposedly addictive and negative effects on teenage girls have lawmakers comparing its parent company Facebook to Big Tobacco. ...