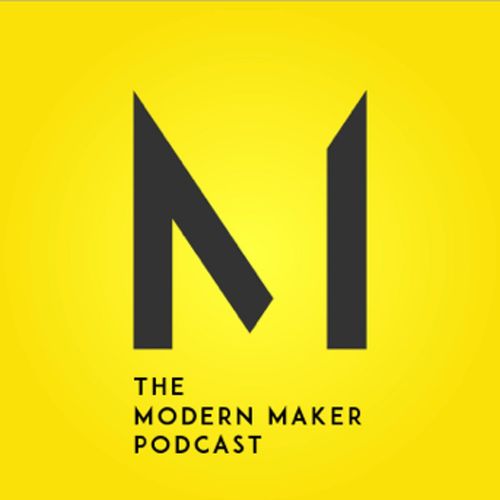 The Modern Maker Podcast
Arts
The Modern Maker Podcast is a weekly podcast about making things by hand. From wood, to concrete, to leather, our hosts Ben Uyeda, Chris Salomone, and Mike Montgomery chat about what it's like to be a "Maker" in it's current state.
Popular episodes
Shipping Container Hotel Got Approved!! - Ep. 239
Nov 22 • 55:16
DIY Gym Building with mike, High level DIY'ing with Chris, and Ben Got the Joshua Tree Hotel Plans Approved by the city! ...
Getting PAID or Gaining KNOWLEDGE - Ep. 238
Nov 1 • 01:08:08
More #rocklerhobbychallenge submissions are rolling in, plenty of time to still get started and we'll continue highlighting our favorites before the BIG rundown episode!! How many do you think Ben can do??...
Ending the Sausage Body Debate Once and for All!! #rocklerhobbychallenge - Ep. 237
Oct 21 • 58:36
Submissions are rolling in and the #rocklerhobbychallenge projects are off the chain. Plenty of time to build and enter, just create a project that relates to a personal hobby (other than building stuff) and post it on instagram / YouTube with he #...
WEEKEND EXTRAVAGANZA!! #rocklerhobbychallenge - Ep. 236
Oct 17 • 01:07:12
Things are heating up and we're celebrating Sweetest Day the only way we know how.. talking sawdust and Oreos!!...
Chris & Mike TELL ALL!!!! ep. 235
Oct 13 • 54:20
Thank you everyone for the questions to answer, we'll be sure to do more in the future. Ben was in NY for this episode but he'll be back for a special weekend episode on Saturday!!...
Chris Posted His #RocklerHobbyChallenge Project!! - ep. 234
Sep 30 • 57:45
The first of our #rocklerhobbychallenge videos are live! apologies for the bad audio but too fun of a show to throw away! Can't wait to see what you all build!...
NEW CHALLENGE ANNOUNCEMENT!! - ep. 233
Sep 13 • 01:00:51
What's going to be the new #rocklerchallenge for 2021?!? find out below. This is our challenge "soft launch" to get people's gears turning. We'll have project videos coming out over the next few weeks and the challenge will be open for a couple of months that way everyone has plenty of time to build! Can't wait to see what you all make! ...
Leveling Up and New Opportunities - Ep. 232
Sep 1 • 58:27
Back at it with another episode of the Modern Maker Podcast. Plus Semi Exact, the furniture company we're all three invested in are starting a MAKER's PROGRAM. Learn more here: https://semiexact.com/pages/maker-program...
Chris's New YouTube Channel: Welcome To The Woodshop - Ep. 231
Aug 13 • 52:37
OUTDOOR TOILET EMERGENCY! - Ep. 230
Aug 1 • 01:03:26
What do you do when you're 10 stories about the ground and have a bathroom emergency... you DIY your way out of it!! Has 5 Minute Crafts gone too far??...