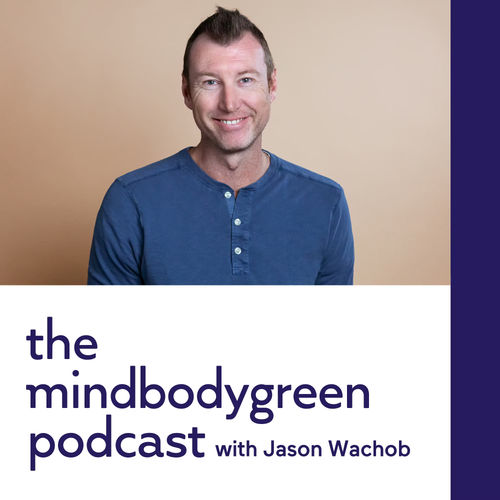 The mindbodygreen Podcast
Health-and-fitness
The mindbodygreen podcast features host Jason Wachob, founder & co-CEO of mindbodygreen, engaging in open, honest conversations with the people shaping the world of well-being. Join us to expand your mind.
Popular episodes
354: The dangers of multitasking & how to stop | Entrepreneur & cancer survivor Thatcher Wine
Nov 26 • 41:11
Thatcher Wine: "Can you sit with a little bit of boredom and curiosity about the world instead of needing to be doing another thing at the same time?"...
353: Everything you need to know about medical & recreational marijuana | Psychiatrist Rebecca Siegel, M.D.
Nov 24 • 34:08
Rebecca Siegel, M.D.: "There needs to be more research [on marijuana] so physicians can either get behind it or not get behind it."...
352: Dr. Google, invisible illnesses & how to make better health care choices | Talya Miron-Shatz, Ph.D.
Nov 19 • 40:28
Talya Miron-Shatz, Ph.D.: "When you're choosing a doctor, it's important to feel connected to this person—you're going to get better treatment and better health outcomes." ...
351: How to know if you have a leaky gut | Gastroenterologist Marvin Singh, M.D.
Nov 17 • 39:39
Marvin Singh, M.D.: "70% of our immune system sits in our gut microbiome. It's silly not to look at that when you're looking at your whole health." ...
350: How to actually increase your happiness | Gretchen Rubin
Nov 12 • 40:22
Gretchen Rubin: "Anytime we're connecting with other people, we get a boost of happiness."...
349: How to tackle inflammation | Madiha Saeed, M.D.
Nov 10 • 42:08
Madiha Saeed, M.D.: "The things that we put in bodies have a dramatic effect on our behaviors." ...
348: How to dispel anxious energy | psychologist Chloe Carmichael, Ph.D.
Nov 5 • 49:14
Chloe Carmichael, Ph.D.: "There's a healthy level of [anxiety] that can be protective. We just need to learn how to use it properly." ...
347: Vitamin D myths, the yo-yo effect & what to avoid in a supplement | Ashley Jordan Ferira, Ph.D., RDN
Nov 3 • 40:56
Ashley Jordan Ferira, Ph.D., RDN: "Most standalone vitamin D3 products on the market are sub-efficacious doses...It's like going to get a pumpkin spiced latte and they left out the latte part." ...
346: How to identify the cracks in your relationship | Esther Perel
Oct 29 • 49:31
Esther Perel: "The quality of all our relationships is what determines the quality of our lives."...
345: The biggest misconceptions about protein, fiber & iron | Nutritionist Simon Hill
Oct 27 • 47:16
Simon Hill: "In Western society, we have made animal protein the hero of the plate. We want to flip that." ...