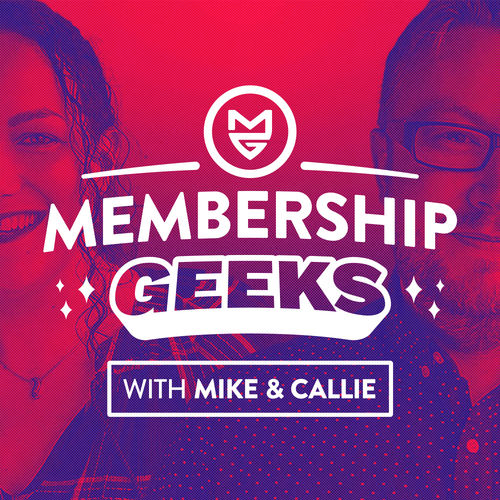 The Membership Guys Podcast with Mike Morrison
Business
Join Mike Morrison from The Membership Guys for advice, tips and insight on planning, running and growing a successful membership website
Popular episodes
334 - 4 Things You Can Do Today to Drive Membership Revenue
Nov 30 • 17:23
Want to give your membership a little revenue boost? Who wouldn't? ...
333 - KPIs Every Membership Owner Should Be Tracking
Nov 23 • 17:19
Every successful membership site owner knows their numbers....
332 - 6 Ways to Create Interest and Buzz for Your Membership Launch
Nov 16 • 22:42
Preparing to launch your membership website? ...
331 - Promoting Your Membership Using Social Media: A 12 Step Plan
Nov 9 • 30:25
Do you want to transform your tweeting into real results? Unsure where to start?...
330 - Tips and Techniques to Encourage Members to Consume Your Content
Nov 2 • 21:02
Are you struggling to get members to consume and complete your content once they've signed up?...
329 - 5 Ways to Level up Your New Member Experience
Oct 26 • 14:56
First impressions are key, especially in the membership world. A good experience in the early days is absolutely crucial to encouraging engagement, community collaboration, and retention....
328 - Should I Include All My Products and Content Inside My Membership?
Oct 19 • 16:01
Do you want to offer a brand-new course or live event…separate from your membership? ...
327 - How to Choose the Right Topic for Your Membership
Oct 12 • 15:15
If you're thinking about starting a membership site, the very first decision you need to make is what it's about....
326 - 11 Signs That it's Time to Increase the Price of Your Membership
Oct 5 • 19:59
Is it time to finally increase the price of your membership?...
325 - How to Maintain Harmony inside Your Membership Community
Sep 28 • 20:15
How do you keep the peace in your membership community? As a community leader, it's your job to make the space your members inhabit welcoming, friendly, and harmonious. ...