The Lowe Post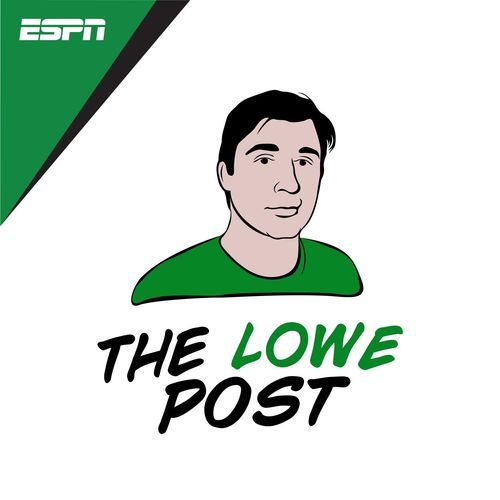 ESPN, Zach Lowe
sports
ESPN's Zach Lowe talks to various basketball people about various basketball things.
Wondering where to start with The Lowe Post? Fans of the podcast have clipped their favorite moments: check out a list of the best episodes below. Want more podcast clips?
Get the Shuffle app.
Best Episodes
Early-Season Surprises with Chris Herring
Dec 28, 2020
"steph curry can good teams great"
10
5
2
Zach talks to 538's Chris Herring about early-season surprises and trends: Golden State's struggles, what Spencer Dinwiddie's injury means for the Nets, the 3-0 Pacers, New Orleans, Milwaukee & more
Howard Beck on the anniversary of Kobe Bryant's passing
Jan 26, 2021
"The legacy of "Mamba Mentality" in the NBA today"
3
4
Zach and Howard Beck of Sports Illustrated reflect on the life and career of Kobe Bryant on the anniversary of his passing.
Check out similar podcasts
Kevin Arnovitz and Taylor Rooks
Nov 30, 2020
"NBA meets Harry Potter Incredible story in GQ by Taylor Rooks. "
6
3
Zach talks to ESPN's Kevin Arnovitz about the remade Atlanta Hawks and the new hierarchy in the Eastern Conference. Then Turner's Taylor Rooks joins to talk about her new magazine feature on life in the NBA's Orlando bubble
Brian Windhorst on Harden rumors and CP3 to Phoenix
Nov 17, 2020
" Best take on Harden to the Nets"
4
2
Zach and ESPN's Brian Windhorst discuss the first day of the NBA's transaction period: James Harden rumors, Chris Paul to Phoenix, the Lakers reloading, more.
Bobby Marks and Jonathan Givony
Nov 19, 2020
"THE SECRET SAUCE — Kennard a Lefty? "
6
1
Zach and ESPN's Bobby Marks and Jonathan Givony recap the 2020 NBA draft and look ahead to NBA free agency this weekend. 
Goldsberry, Bontemps, and Koreen
Dec 11, 2020
"Anyone else inordinately enjoy the anecdotes from Zach Lowe's life?"
4
1
1
Zach previews the Miami Heat -- and discusses the James Harden rumors -- with ESPN's Kirk Goldsberry, then talks Celtics with ESPN's Tim Bontemps and Raptors with Eric Koreen of The Athletic.
Sarah Kustok and Malika Andrews
Dec 15, 2020
4
Zach previews the Brooklyn Nets with Sarah Kustok of the YES Network, then talks to Malika Andrews about her piece on Giannis Antetokounmpo.
Tim MacMahon and Kevin Pelton
Dec 7, 2020
2
Zach talks to ESPN's Tim MacMahon about the James Harden situation, and then Kevin Pelton discusses the Pelicans, Warriors, Jazz, and Western Conference outlook.