The Jump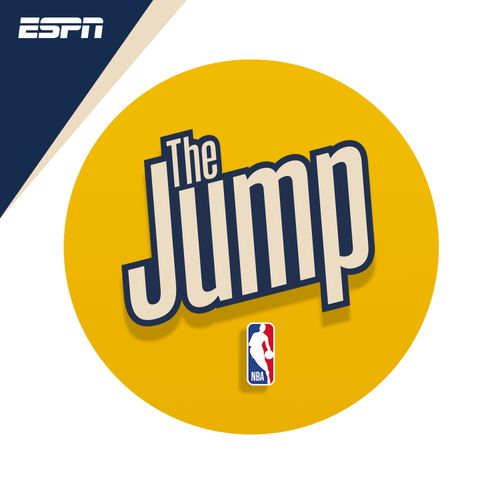 ESPN, Rachel Nichols
sports
Rachel Nichols and a rotating cast of ESPN NBA Insiders and analysts keep tabs on everything around the league.
Wondering where to start with The Jump? Fans of the podcast have clipped their favorite moments: check out a list of the best episodes below. Want more podcast clips?
Get the Shuffle app.
Best Episodes
Giannis Signs the Supermax
Dec 15, 2020
1
1
Rachel Nichols, Amin Elhassan, Paul Pierce and Malika Andrews discuss why Giannis decided to sign his supermax extension with the Bucks. AND Rick Flair joins to the show to talk about his collab with Damian Lillard.
Mavericks Stop Playing Anthem
Feb 10, 2021
"The NBA will force the Mavericks to play the national anthem after originally telling them it was ok not to"
1
Rachel Nichols, Kendrick Perkins and Jackie MacMullan are joined by Mavericks owner Mark Cuban to discuss his decision to stop playing the anthem at Mavs games.
Check out similar podcasts
Fan vote lifts Luka over Dame into All-Star starting lineup
Feb 19, 2021
"Did the fans disrespect Dame by voting for Luka?"
Rachel Nichols, Vince Carter and Richard Jefferson discuss the fan vote that lifted Luka Doncic over Dame Lillard into the All-Star starting lineup and who should be the first pick of the All-Star draft by LeBron.
Pistons will work on Blake Griffin playing elsewhere
Feb 15, 2021
"WOJ: Pistons aren't playing Blake Griffin to try and trade him "
Jorge Sedano, Matt Barnes, and Adrian Wojnarowski discuss the Pistons who will sit Blake Griffin to work on his playing future elsewhere and how desirable he is in a trade.
Rachel Nichols sits down with James Harden
Feb 12, 2021
"Vince Carter & Zach Lowe say the Nets can't win a championship with their defense "
Rachel Nichols, Vince Carter and Zach Lowe discuss the Nets chances to win the title and their expectations for Kevin Durant's return to the Bay.