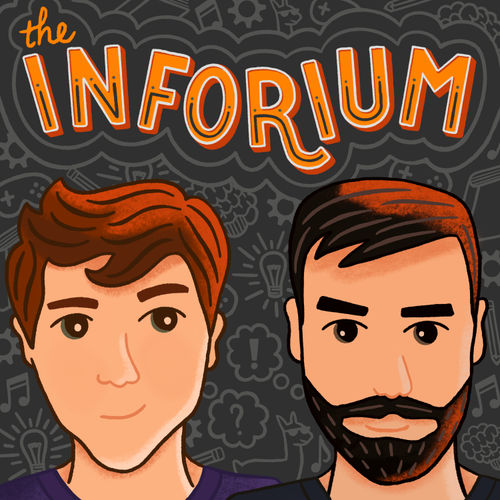 The Inforium
Education • Business
Thomas Frank and Martin Boehme discuss productivity, personal finance, their weird llama obsession, and other interesting things. New episodes every other week.
Popular episodes
The Final 5 Questions (Ep. 25)
Jul 30 • 02:05:43
Here we are: the end of time (for this podcast). We mark this historic moment, after so many years of podcasting, with one last batch of listener questions....
The Dip: How to Know When to Quit (Ep. 24)
Jul 19 • 01:14:25
Sometimes, quitting is the best strategy for moving forward. We talk about Seth Godin's "The Dip"....
Regrets From Our 20's (Ep. 23)
Jul 1 • 01:23:04
Having both entered our third decade this year, we're taking a look back at some of our biggest regrets from the last one....
How to Make Your Life Less Overwhelming (Ep. 22)
Jun 16 • 01:15:52
Life doesn't have to be a never-ending sea of task lists and overwhelm. We talk about different ways to make one's life a bit less stressful....
How to Read More (Ep. 21)
May 31 • 01:10:02
We talk about some of the ways we've been reading and listening to more books lately, even while keeping up with busy schedules....
Thinking In Bets: How to Make Decisions You Won't Regret (Ep. 20)
May 13 • 01:16:20
In the second part of our discussion on the book Thinking in Bets, by Annie Duke, we talk about how to make better decisions when uncertainty is certain....
5 Questions: Tab Overload, Time Blocking, and Financial Literacy (Ep. 19)
Apr 26 • 01:00:16
We talk about having too many tabs, auditing your time blocks, learning about finances, sticking to your morning routine, and finding contentment....
Thinking In Bets: How to Become Comfortable With Uncertainty (Ep. 18)
Apr 12 • 01:18:39
Life is more like poker than chess. At least according to the book we've been reading: Thinking in Bets, by Annie Duke. Do you know what you don't know?...
Life Reboot (Ep. 17)
Mar 29 • 01:27:38
We talk about how we've been reimagining our lives and how you might go about doing the same for yours....
5 Questions: Analysis Paralysis, Long-Term Goals, and Credit Scores (Ep. 16)
Mar 15 • 01:06:48
We talk about choosing what to do first, building long-term goals, focusing at home, improving your credit score, and task management overload....