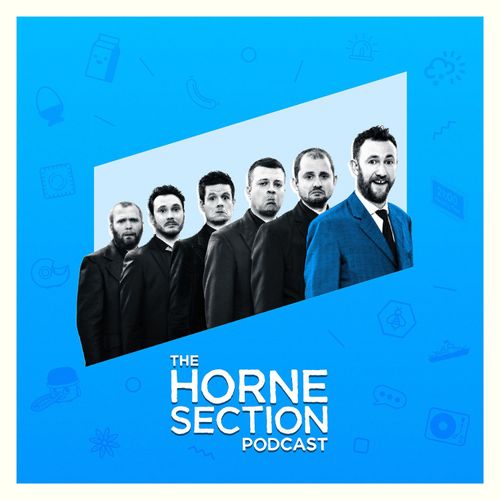 The Horne Section Podcast
Comedy
Raucous, ridiculous and surprisingly satisfying - The Horne Section Podcast is back! Join us every other week as host Alex Horne and his band are joined in the basement by a very special guest for some musical mayhem and plenty of laughs.
Popular episodes
Mike Wozniak - Live Show
Apr 28 • 59:24
Ellie Taylor
Apr 21 • 01:05:41
James Acaster
Apr 14 • 01:12:05
Rachel Parris
Apr 7 • 01:03:32
Nina Conti
Mar 31 • 59:15
The third instalment of the Isolation Series: recorded via technology with each band member sat in a chair in their own home with special guest Nina Conti! Surprisingly, it nearly all works and it's the usual mix of stupid songs and nonsense talking. Find Nina's podcast "Richard and Greta" via this link: https://podcasts.apple.com/gb/podcast/richard-greta/id1550291416...
Jessica Knappett
Mar 24 • 01:03:22
Hip Hop Saved The Horne Section Podcast
Mar 14 • 01:04:51
The mash up people have been yearning for since the dawn of time is finally here, all thanks to Comic Relief. It's all the power of Hip Hop Saved My Life multiplied by the might of the Horne Section Podcast and the world will never be the same again....
Rupert Gregson Williams (and Tim Key)
Dec 23 • 01:06:06
Isy Suttie
Dec 16 • 01:10:01
Daisy May Cooper
Dec 9 • 01:10:29