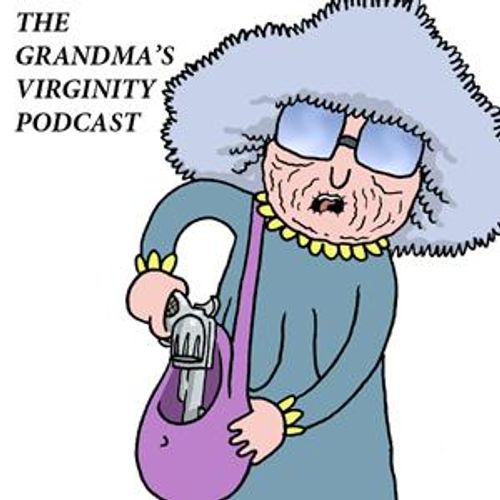 The Grandma's Virginity Podcast
Comedy
Justin Roiland, Ryan Ridley, and Jackie Buscarino discuss the burning topics of today, chat with special celebrity guests, and so much more than that. You have to just believe me, there is so much more going on. I don't know what else to say.
Popular episodes
GVP Episode 44: The End?
Jan 25 • 01:32:18
GVP 43: Summer EXTRAVAGANZA!
Aug 20 • 01:23:59
GVP 42: "South Park" Veteran Ryan Quincy
Sep 25 • 02:14:38
In this amazing episode, the fantastic Ryan Quincy sits in and shares his perspective on casting Justin over Ryan in the role of "Chris" on his new IFC animated show "Out There". We also discuss his 15 years spent on South Park, the grueling schedule, and how he got involved with the show. ...
GVP 41: Ryan, Voice Actor
Sep 3 • 01:40:29
In this fantastic episode, Justin Ryan and Jackie talk about all sorts of stuff! You wouldn't even believe all the things they discuss! Some of the topics include: Ryan's voice acting career! Justin's skinned knees! Jackie's philanthropy! Justin's new pet! ...
GVP 40: Adventure Time creator Pen Ward!
Jun 4 • 01:51:50
Pendleton Ward and show favorite Kent Osborne sit in on this delightful episode of GVP! Smith Harrison our announcer took care of making sure this episode is safe for all audiences by censoring the explicit content within! He might have missed a few spots though, so beware. Actually, I wouldn't risk listening if you're under 17 years of age JUST to be on the safe side....
GVP 39: Ryan's Comedic Origins!
Apr 20 • 01:20:11
GVP 38: Abdul-Wahed Teryl Gheith
Jan 15 • 01:24:16
GVP 37: Surprise!
Dec 30 • 01:43:33
Ohhhh boy oh boy! A new episode! We're back and feel horrible for taking such a long break. Jackie discusses her christmas experience, Justin rants about a few things, and Ryan is dating a black girl! We're just warming up with this one, expect a new episode at LEAST once a month from now on. Good lordy lordy. Eat your veggies and cream!...
GVP 36: The Search Begins
Aug 20 • 01:34:09
GVP 35: Community Creator Dan Harmon, and more!
Aug 8 • 02:32:02
This is a real mixed nuts type episode! Dan Harmon sits in for a few fun segments (including one called "mixed nuts") and Amy Roiland sits in for a few more fun segments!...