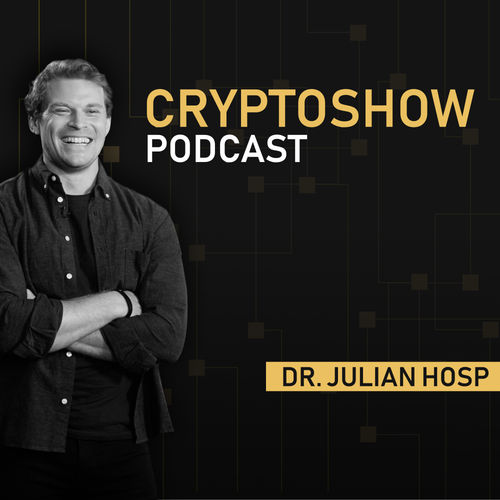 The Cryptoshow - blockchain, cryptocurrencies, Bitcoin and decentralization simply explained
Technology
The Cryptoshow gives you all the insights on cryptocurrencies, blockchain, ICOs, Bitcoin, Ethereum, Dash, decentralization and Co.
Popular episodes
#302 Twitter Spaces with CEO & Team: Decentralized Assets like dTSLA on Cake DeFi
Dec 7 • 01:05:56
Crypto has crashed, but DFI is the massive outlier! In this week's episode, we of course discuss the crazy market movements over the past week: Bitcoin and many other cryptocurrencies are down -20% and more, but DFI has actually doubled its price measured in Sats since the last show. Learn all about what Decentralized Assets are and how they work, what is happening in the ...
#301 Q&A. LIQUIDITY MINING AND DTOKEN. MY STRATEGIES AND TACTICS!!
Dec 6 • 01:04:58
Decentralized assets have gone live at DeFiChain, which offer incredible opportunities. In some cases, up to 1000% returns per year. In this podcast I went through the most important questions so you are perfectly prepared. Don't miss!...
DECENTRALIZED ASSET STRATEGY: HOW TO DOUBLE YOUR MONEY!! (Lord Mark & Dr. Julian Hosp Show)
Dec 2 • 01:35:57
#299 Weekly Twitter Spaces with CEO & Team: Over 10,000% APY with decentralised stock tokens?
Nov 30 • 01:18:00
What turbulent and exciting times we live in! In this week's episode, we discuss Plan B's popular floor model: Is it broken and incorrect already? And why is the mass always wrong? We also look at the differences between most retail investors and professional investors like Michael Saylor, and of course we also discuss one of the hottest topics in our community right now: ...
#298 Weekly Twitter Spaces with CEO & Team: What are the next market moves?
Nov 24 • 58:08
Crypto has been trading sideways, but much is happening in the background. In this week's episode, we reflect on crypto during the last 18 months and whether Bitcoin is actually a good investment as an inflation hedge. We also discuss El Salvador's plans to build "Bitcoin City", upcoming promotions on Cake DeFi, and of course our upcoming decentralized stocks product....
#297 1 BILLION USD BITCOIN BOND IN EL SALVADOR - CRITICAL BACKGROUND INFO!!
Nov 23 • 16:02
#296 WHAT IS WEB3 & METAVERSE?? Explained simply!!
Nov 19 • 08:58
#295 Weekly Twitter Spaces with CEO & Team: Best Strategies During A Dip & Upcoming Cake DeFi Features
Nov 16 • 50:26
#294 Weekly Twitter Spaces with CEO & Team: How long will the bull run last?
Nov 9 • 48:40
New All-Time-Highs everywhere! In this week's episode, we discuss the current bull run, how long it may last, and if "the flippening" might actually happen sooner than most expect? We also talk about the upcoming decentralized stocks feature on DeFiChain, and go deeper into questions and concerns the community has....
#293 Weekly Twitter Spaces with CEO & Team: DFI price to 20 USD?
Nov 2 • 58:39
In this week's episode, we dive deep into the latest market developments and especially the bullish outlook for November and December. Now that DeFiChain is soon launching decentralized stocks, what could the price impacts on the DFI coin be, and how do decentralized stocks on a blockchain actually work?...