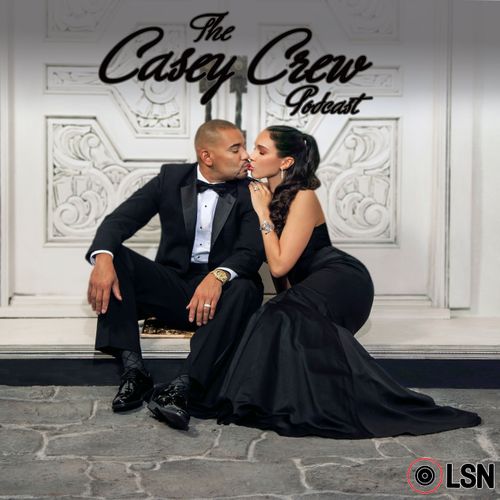 The Casey Crew
Kids-and-family
DJ and radio host DJ Envy and his wife Gia Casey will explore the good, bad, ugly and beauty of relationships and family. Join them every week as they let you in on past experiences, give advice, talk to celebrity couples and give you two sides to every situation.
Popular episodes
Episode 199: Baby #6!
Jun 18 • 58:01
First and foremost, we want to thank everyone for all of the texts, DMs, emails, well wishes and prayers that you have sent. We felt the outpouring of love to our core…💫 It truly helped carry us during this very painful time for our family. We appreciate your patience during our break, which allowed us time to grieve our loss the best way that we know how. In today's epis...
Episode 198: If It's Not On Social Media It Ain't Real....
Apr 23 • 58:54
Do you agree with this saying? If a person is serious about you, do you expect them to "share you with the world"? Do you expect them to be proud of you and want to show you off? If this is the case, and they don't, what does that say to you about their intentions, commitment and your relationship as a whole? This issue is the cause of a lot of strife between couples in th...
Episode 197: I Wasn't Flirting... I Was Just Being Nice...
Apr 16 • 01:01:24
What is your definition of flirting? Do you view it as an innocent act or, rather, the beginning of something potentially more serious? Do you think that it is completely inexcusable or that there simply should be boundaries when you are in a relationship? Have you ever been in a relationship where flirting (by you or your partner) lead to something deeper? Do you believe ...
Episode 196: You've Got Mail...
Apr 8 • 44:17
Every week, Envy & Gia read a viewer/listener email 📧 that they find interesting. With such a high volume of emails, they decided to dedicate an episode just to answer some of your questions...
1. As a parent, how do you control the anxiety associated with fear of something harmful happening to your child? What steps do you take to keep them protected? Envy & Gia share so...
Episode 195: I Think I'm Ready To Risk It All...
Apr 2 • 54:43
Do you believe that your upbringing has anything to do with your relationship style, love language or put simply, how you treat people? Are you from the school of thought that dictates "you must teach people how to treat you"? Envy recently saw a instagram post implying that men's treatment of women is based on their feelings for them. Gia feels as though some people may ...
Episode 194: You're Bad For My Mental Health..
Mar 26 • 53:05
Ladies, would you agree that social media culture and the internet combined have created a stigma on the way a women's body should look in this day and time? Envy introduces the topic by telling Gia a story about a young girl who took raunchy photos to send to older men for money. This conversation evolved into another that posed the question, Do you feel as though women w...
Episode 193: Did My Son Just Tell Me To Shut The F@#K Up...?
Mar 19 • 59:47
Do you believe that family business and Vegas share the same common denominator - that "Whatever happens in this family stays in this family"? In this episode, Envy and Gia discuss what happened between Kirk Franklin and his son. How would you react if your child aired out your family's dirty laundry for public consumption? Do you think that you would be able to find it i...
Episode 192: Ladies Would You Propose To Your Man...?
Mar 10 • 39:25
This episode's first topic was inspired by a show that Envy and Gia watched on TV in which one of the cast members wants to get married to her long time boyfriend. The couple has two kids and he hasn't proposed as yet, knowing that she yearns for a proposal and to be made "respectable" more than anything...😳 Ladies would you propose to your man if you felt that a proposa...
Episode 191: Strip Club Etiquette...
Mar 4 • 56:28
How far is Too far when a girl's/guy's weekend comes into play? Whether it be a bachelorette party or a guys night at the strip club, what behavioral boundaries are acceptable, if any? This topic became a conversation after Envy and Gia viewed a recent episode of The Real Housewives of Atlanta. They discuss what took place and ask each other how would they behave/react if ...
Episode 190: Stop Running Your Mouth...
Feb 26 • 59:38
Do you have a particular night that you set aside for your partner? Many couples do and it's typically called date night. Well, for Envy & Gia, Monday night is one of theirs; and they spend it watching The Bachelor. Have you become obsessed too? A recent episode sparked a topic for discussion, "Do you think that you could marry someone if your parents didn't approve of th...