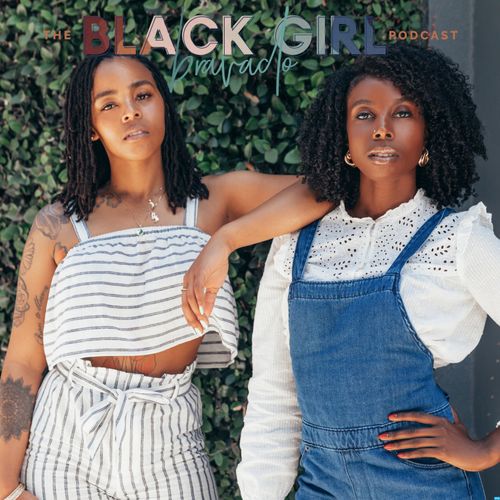 The Black Girl Bravado
Society-and-culture
Candid conversations on self-care, self-love, mental health x wellness, spirituality, humor, entrepreneurship + much more. Connect with us via email at: contact@theblackgirlbravado.com
Popular episodes
218 | Read Me, Sis! (Part Three): Intentional Detachment
Nov 23 • 49:38
It's time to let go, y'all....
217 | Read Me, Sis! (Part Two): The Martyr Complex
Nov 16 • 39:41
Martyrs are known for sacrifice. Many of us sacrifice our time, energy and mental health by putting other people's needs above our own. Maybe you're putting more effort into the relationship than your partner is. Maybe you told your boss you can handle an extra project when your plate is already full. Perhaps you don't want to say no and cause disappointment, or you're hyp...
216 | Read Me, Sis! (Part One): I'll Feel Better When...
Nov 9 • 43:14
Welcome to our newest series: Read Me, Sis! Call us librarians, because we're about to read y'all....
215 | Draft Season (Part Five): Divine Women: Cultivating Feminine Energy
Nov 2 • 53:52
We're ending our Draft Season series with free game for our homegirls. This week, we're talking about cultivating divine feminine energy. We evaluate past experiences, both personally and with past love interests, to think about our connections to our inner goddesses and how we can nurture our feminine energies. If you're feeling out of touch with your feminine, tap in and...
214 | Draft Season (Part Four): So you're dating... Now what?
Oct 26 • 01:00:14
Let's be real, y'all... at the beginning of any relationship, everything seems so sweet. In this week's episode, we talk about experiencing limerence in relationships. Limerence is a state of infatuation with another person that involves an all-consuming passion and intrusive thoughts. When you're experiencing limerence, you can say goodbye to sound judgements. It's rose c...
213 | Draft Season (Part Three): Exploring Dating Patterns with Francesca Hogi of Dear Franny
Oct 19 • 01:16:14
Welcome back, homegirls! Draft Season continues with Francesca Hogi. She is the host of Dear Franny podcast and a certified love coach. We talk about love confidence and how it ties into our dating patterns. She also helps us understand why we may be avoidant when dating, how to treat ourselves with compassion and learn from our dating mistakes and so much more. We learned...
212 | Draft Season (Part Two): Manifesting the Perfect Love with Alea Lovely of Spiritual Shit Podcast
Oct 12 • 01:17:11
This week, we welcome special guest Alea Lovely, the host of Spiritual Shit Podcast who happens to be an intuitive empath, a spiritual leader and an author. Alea takes us on a journey of self discovery as she tells stories of healing, growth and expansion on her quest for true love. We learn about manifestation, how to accept the timing of how things unfold in life and so ...
211 | Draft Season (Part One): Bad & Boozy Dating Stories
Oct 5 • 01:16:18
The seasons are changing, y'all. We're preparing for cuffing season by kicking off our latest series: Draft Season! In this series, we're going to get candid about our dating experiences AND we'll be talking to some dating experts to prepare you all for the draft and get you ready to cuff. Listen in as we sip on some piña coladas and talk about the best dates we've ever be...
Bestie Chat
Oct 1 • 08:48
Here's a snippet from our Patreon August Check-In. In this episode we talk about Brittany's birthday re-cap, starting a discipline challenge and fears around initiating sex (why are we this way? lol)....
210 | Friendship Goals: Reloaded (Part Six): The Pains of Friendship
Sep 28 • 01:21:29
When it comes to friendship, things aren't always sweet. We're bringing this series to a close by discussing common friendship 'pain points,' from jealousy to having unrealistic expectations for a friend. We aren't excluded from these pains, no matter how close we get to somebody. It's only right that we unpack the good AND the challenging parts of friendship! We'll discus...