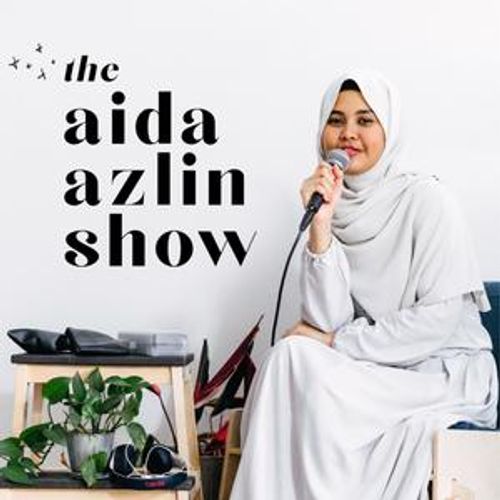 The Aida Azlin Show
Religion-and-spirituality
"The Aida Azlin Show" is a series of frank conversations between Aida, a writer who loves to talk, with either herself (lol) or her special guests on anything and everything. This is a show where good energy thrives, creativity flows, and judgements are absolutely not allowed.
Popular episodes
Honouring The Present Moment
Aug 8 • 11:59
For the longest time, we were all told to multi-task, to hustle, to do, do, do until we forget to just... be. I realised that the biggest reason why I've been so overwhelmed and anxious is because I was either in "overthinking about the future" mode or "stuck in the past" mode - never just "being and living in the present" mode. Working on my mindfulness muscle has helped ...
Redefining & Refining Beauty: With Saphia Moulana
Aug 2 • 24:06
"So..... What do you do for a living?" (And why it's a boring question)
Jul 22 • 07:19
When I Fixed My Relationship With Time (Great Things Happen)
Jul 11 • 10:57
On Confidence & Embracing Yourself (As An Introvert) feat Karim Boubker
Jul 7 • 27:37
I'm Flawed & Sometimes I Overthink
Jul 4 • 05:59
An Invitation to Living Your Best Life
Jun 30 • 05:00
Assalammualaikum everyone! It's been a while, and as I battled with excuses and procrastination, I suddenly got an epiphany and learned a valuable lesson. My hope for Season 3 is to be able to share with you more of my thought processes and things that are close to my heart. New episodes will drop Mondays and Thursdays, In Sha Allah! I hope you'll enjoy it as much as I do ...
Anse Dr Tamara Gray: Esteemed Teacher, Compassionate Mentor, And The Life Long Student
Nov 4 • 55:00
OMGGGGGGG I am beyond excited for the season finale of #theaidaazlinshow because it's with none other than my beloved teacher, Anse Dr Tamara Gray! I have so much love for her (and I know I'm not the only one, every Sister who has studied under her can vouch for her ginormous heart and contagious humour and of course, boundless wisdom!) and I'm so proud to have her as the ...
Noor Mastura: It Only Takes One Person To Effect Change 💪
Oct 28 • 51:42
Joining me this week is Noor Mastura - she is an advocator, Singaporean of the Year (woop woop!), and an all-round inspiring human being. I've seen how she has positively impacted society through her various works, one of which is her Instagram Platform called BBW - Being Bravely Woman. And brave is definitely a word that I would use to describe Noor as she highlights some...
Ayesha Syahira: The Quran Tag Girl & Giving Your Feelings Its Rights
Oct 21 • 51:44
Joining me this week, is Ayesha Syahira or as she is more famously known as the 'Quran Tag Girl'. So many of you requested that I speak to her, and Ma Sha Allah, I learned so much during our conversation! We spoke about how her journey of falling in love with the Quran started, how she started as a student and now has become a teacher of the Quran, how she give her feeling...