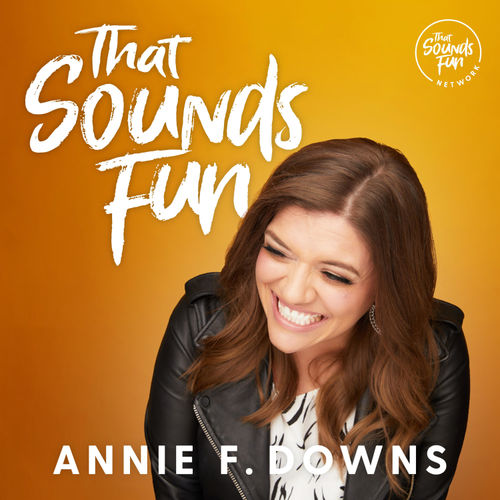 That Sounds Fun with Annie F. Downs
Religion-and-spirituality
Christian author and speaker Annie F. Downs shares with you some of her favorite things: new books, faith conversations, restaurants, travel stories, musicians not to miss, interviews with friends. Pretty much, if it sounds fun to Annie, you're gonna hear about it.
Popular episodes
Episode 351: CAIN
Dec 3 • 01:17:23
Y'all. Y'ALL. The band CAIN is my very favorite group of friends and I seriously just want to be the extra sibling in that family. Their music is FIRE and they are just the dearest and I think you're gonna absolutely love them! Also make sure you check out their Christmas music! BIG CHRISTMAS VIBES START TODAY Y'ALL!...
Episode 350: Dave Scatchard
Dec 1 • 01:04:42
What a joy to meet Dave Scatchard and hear his story! Former professional hockey player, husband, dad, man of faith, and life coach, Dave is all the things rolled into one and this is a FUN conversation! ...
Episode 349: Scott Harrison + Giving Tuesday
Nov 29 • 01:03:18
I'm so so glad to have our friend Scott Harrison from Charity:Water back on the pod today! We talk all about his family's move to Nashville (I AM SO PUMPED), the pandemic, the need for clean water, the start of Giving Tuesday, and how we can make a real impact! ...
TSF Q&A: Indigenous Culture Questions with Charles and Siouxsan Robinson
Nov 26 • 01:15:14
We are so excited to have Charles Robinson back with us, and he brought his wife Siouxsan along today, to answer your questions about Native American culture, indigenous people's groups, and what we can do to better educate ourselves and our children. Thank you for your thoughtful questions (submitted by our friends on the AFD Week In Review list!). Y'all are the best....
Episode 348: Hannah Brown
Nov 24 • 01:07:42
I am such a fan of Hannah Brown. Yes, I watched and cheered for her the last few years as she's made her way on television, but I'm most impressed with who she is as a human and friend. Her new book God Bless This Mess is a good read and perfect for this week of Thanksgiving when you've got more reading time on your hands! ...
Episode 347: Allison Trowbridge + Copper Books
Nov 22 • 58:56
As the holiday week starts, I'm so happy to have my friend Allison Trowbridge in the studio, talking about books and reading and Copper Books! I know we love to talk books and reading (more coming before the end of the year) and Copper Books is such an awesome environment for readers like us! ...
TSF Q&A: Faith + Fasting
Nov 19 • 02:18:56
As we continue our Q&A episodes, we have had a lot of people with questions about the spiritual discipline of fasting, particularly in how it can be uniquely challenging, and uniquely beautiful, for women. Today we are joined by Christine Caine, Jada Edwards, and Aundi Kolber to answer YOUR questions about fasting. (Dudes, this isn't all just for women, so listen along too!) ...
Episode 346: Andi Andrew + Friendship
Nov 17 • 01:02:25
My friend Andi Andrew is back to help us navigate friendships in a beautiful Gospel-centric way- her book Friendship--It's Complicated. This conversation is so important- so many of us have painful friendship stories in our history and in our present- that talking it through and hearing from an expert will help so much! (The book is great! Grab a copy!)

. . . . ....
Episode 345: Mattie Selecman + Lemons on Friday
Nov 15 • 01:05:14
I'm so excited to introduce to my friend Mattie Selecman. She is an incredible writer, a kind friend, and knows how to hold joy and suffering together. Her new book Lemons on Friday is a heartbreaking and beautiful retelling of the loss of her newlywed husband. This is a powerful story from a dear woman. You're going to love her and her book!...
Episode 344: Mike Donehey + Flourish
Nov 12 • 01:08:54
I mean, y'all know how much I adore Mike Donehey, so having him back on the show is such a treat. His new album Flourish has quickly become a favorite of mine. This conversation is full of AHA moments and profound truths and I'm so so thankful for Mike's words and heart and music! ...