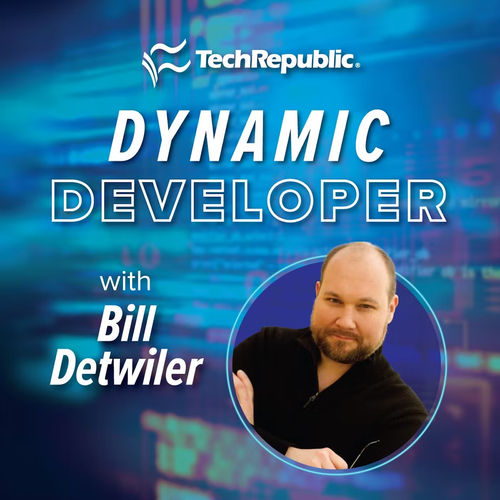 TechRepublic's Dynamic Developer with Bill Detwiler
Technology • News • Business
Each week, award-winning tech journalist Bill Detwiler brings you news, career advice, team management tips, and conversations for developers, coders, software engineers or anyone interested in or involved in the field of software, application, or system development.
Popular episodes
Walgreens CTO: What keeps me up at night and why partnerships are critical to digital transformation
Dec 7 • 22:22
On a this episode of TechRepublic's Dynamic Developer​, Mike Maresca, Global Chief Technology Officer at Walgreens Boots Alliance, talks with Bill Detwiler about the company's digital transformation efforts, how they are leveraging IT to innovate quickly, the importance of data privacy and security, and what keeps him up at night....
Open source developers are unique: Tips for working with and managing community-centric dev teams
Oct 8 • 35:58
Is there anything unique about working with, managing or being an open source developer. On a this episode of Dynamic Developer​, I speak with Todd Moore, vice president for open technology and developer advocacy, at IBM about these topics as well what he looks for when hiring open source developers, the right way for companies to turn their open source projects into open ...
Identity is replacing the password: What software developers and IT pros need to know
Aug 31 • 25:26
Identity and access management systems are making it easier for software developers to secure their applications, for employees and customers to access the tools and services they need and for companies to protect their systems and data. On this episode of Dynamic Developer, Bill Detwiler speaks with Andre Durand, Founder and CEO of Ping Identity, about how the changing la...
TrailheaDX 2021: Salesforce's Parker Harris explains how low-code is reshaping software development
Jun 21 • 22:34
Salesforce's annual developer and admin event, TrailheaDX, starts this week. And on this special Dynamic Developer episode, Salesforce CTO and co-founder Parker Harris joins host Bill Detwiler to talk about the big theme's for this year's TDX event, how Salesforce is betting big on its platform, and what's next for the future of software development as more companies expan...
Software QA testing: Secrets from a veteran QA engineer
May 25 • 35:33
Quality Assurance (QA) testing is often done at the end of the software development process. On this episode of Dynamic Developer​, host Bill Detwiler speaks with Deborah Lewis, a Lead Quality Assurance Engineer at Red Ventures, about why this is a bad idea. The pair discusses the importance of QA, how QA engineers can work effectively with other teams involved in the deve...
Citizen developer programs: How to build them and why companies should
May 12 • 30:07
What are citizen developer programs and why should companies develop and promote them? In this episode of Dynamic Developer, I'm talking with Marcus Torres, GM of IntegrationHub & VP of Platform Product for ServiceNow, who's joining us again to talk about citizen developer programs. ...
How to stand out as a developer and software engineer
May 7 • 30:02
How do you stand out as a developer or software engineer in today's job market? In this episode of Dynamic Developer, I'm talking with Randall Kanna, product lead for Trim and author of the book, "The Standout Developer." I spoke with Randall in November 2020, but didn't have a chance to air the interview then. Randall has an amazing story and great advice for developers o...
Low-code and no-code won't kill developer jobs, here's why
Apr 22 • 30:02
Will the low-code​ and no-code movement result in fewer developer​ jobs? Or, will it actually encourage more people to become developers? In this episode of Dynamic Developer, we're going to talk with Marcus Torres, GM of IntegrationHub and VP of Platform Product with ServiceNow, about how the low-code and no-code movement is affecting the field of software development. We...
Coding for robots: Need-to-know languages and skills
Mar 30 • 31:24
Robots come in all shapes and sizes, but typically, they're autonomous devices that operate on their own to help us complete a task. If you're a developer looking to get into the growing field of robotics, what are the right skills to have? What languages should you know? In this episode of Dynamic Developer, we're going to talk with John Suit, advising CTO of KODA, who ca...
NVIDIA: Data centers are getting smarter, but also get less complex thanks to intelligent networking hardware
Mar 25 • 22:34
As the modern data center gets more intelligent, you might think it would also get more complex, but that's not the case. In this episode of Dynamic Developer​, I talk with Kevin Deierling, senior vice president of marketing for the networking business at NVIDIA about the evolution of the data center and some common misconceptions about modern data centers. You can listen ...