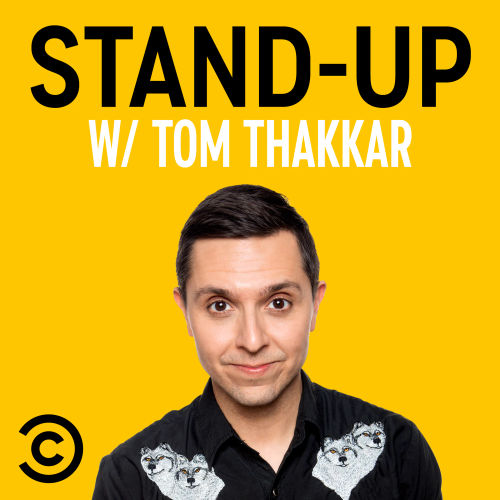 Stand-Up w/ Tom Thakkar
Comedy • Tv-and-film
Welcome to our standup listening party! Every week, we will be featuring and discussing some of the greatest stand-up of all time, from classic bits out of Comedy Central's library to jokes that were written the same week you hear them, hosted by Comedy Central's Tom Thakkar.
Popular episodes
Introducing Beyond the Scenes from the Daily Show
Jul 27 • 41:40
Daily Show correspondent Roy Wood Jr. gives listeners an inside look at The Daily Show with Trevor Noah. Hear how correspondents, writers, and producers of the Emmy-winning series use comedy to tackle a variety of complex topics and discuss where these issues stand today. On this episode, Roy is joined by Daily Show writers X Mayo and Ashton Womack for a wide-ranging and d...
Maria Bamford, Jim Gaffigan, Tom Thakkar, Nick Swardson
Dec 10 • 01:08:45
Thank's for being along for the ride. This is the farewell episode where Tom and Coach say good-bye to all the wonderful listeners who joined us week after week....
Matt Fulchiron, Zach Galifianakis, Lavell Crawford, Amy Silverberg
Dec 3 • 51:46
Tom, and Coach continue to deliver you the best comedy clips from the archives of Comedy Central, answer listener email, give advice about stand up, and share some REALLY BIG NEWS this week....
Lara Beitz, Joe Machi, Lil Rel Howery, Martha Kelly
Nov 19 • 45:06
Tom is back at it with more of the best curated selections from the best comics. This week, we take a listen to some eccentric voices, and personalities in the game, listen to fan jokes, and take on another joke detective case....
Blair Socci, Kevin Hart, Mike Recine, Vanessa Gonzalez
Nov 12 • 47:42
Tom continues to bring the heat with great joke selections, introducing comics you might not yet know, and bringing older material from comics you should know. We spend a little time trying to understand the hate for top comedians, while sharing jokes from listeners from all over the world. ...
Opey Olagbaju, Bill Burr, Jackie Kashian, Casey James Salengo
Nov 5 • 47:50
Tom and Coach continue to read listener jokes, while discussing this weeks clips, and giving some much needed comedy advice to new comers. ...
Mitch Hedberg, Greer Barnes, Rachel Feinstein, Martin Urbano
Oct 29 • 47:55
Happy Halloween Tom-Fooligans! This week's comedians bring Tom back to some precious memories from the Comedy Cellar. We continue to share fan jokes, and touch on some of the unwritten rules of stand up....
Sabrina Jalees, Alex Edelman, Michael Che, Rosebud Baker
Oct 22 • 41:36
Tom has his weekend get away spoiled, but manages to still pick great clips, from some of the best comics around....
Solomon Georgio, Garfunkel and Oates, David O'Doherty, Megan Gailey
Oct 15 • 50:12
A special themed episode for the podcast feed this week. Usually one to shy away from comedy clips that are too similar, Tom decided to break away form tradition, and focus on some of his favorite musical comedy bits this week....
Jena Friedman, Tom Segura, Baron Vaughn, Jessi Klein
Oct 8 • 53:14
Tom pulls off one of the greatest feats in the history of podcasting, while redefining what it means to be a Joke Detective. Never has a host displayed such dedication, and passion for his audience. Truly a must listen episode! ...