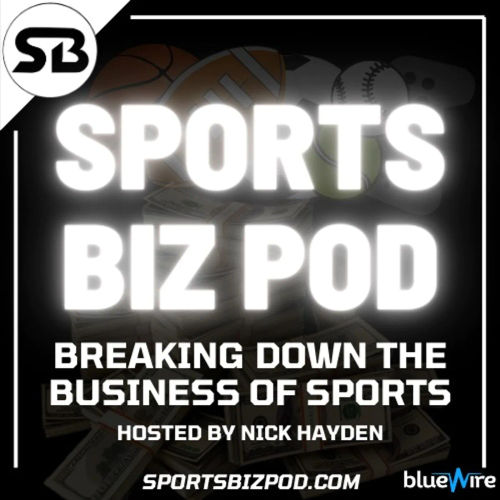 Sports Biz Pod
Sports • Business
Breaking down the business of sports. Special guest interviews with industry titans, executives, athletes, and investors. Providing rundowns with top sports news, insights, events, and careers. Hosted by Nick Hayden, the founder of Sports Biz Group.
Popular episodes
Hakeem Valles - NFL Tight End, Founder at Perspective Global Media, TikTok Creator with 200k+ followers
Dec 15 • 35:43
Hakeem has always been an entrepreneur, and he used that same hustle to make his way on an NFL roster. This episode we discuss the problems with NFL players going bankrupt, how to grow on TikTok, changing landscape of name image & likeness rights in college athletics. ...
Nicole Jeter West - Head of Marketing and Brand Engagement for LA 2028
Dec 1 • 26:11
Ricardo Fort - Head of Global Sponsorships at The Coca-Cola Company
Nov 24 • 22:56
Ricardo Fort is responsible for leading all aspects of the Company's relationships with the best sports and entertainment organizations in the world, including the International Olympic Committee, FIFA, UEFA, Special Olympics International, gaming publishers, record labels, film studios, etc. ...
Sports Biz Rundown (10/26/2020 - 10/30/2020)
Oct 30 • 28:42
Sports Biz Rundown (10/19/2020 - 10/23/2020)
Oct 23 • 20:30
Sports Biz Rundown (10/12/2020 - 10/16/2020)
Oct 16 • 26:22
Sports Biz Rundown (10/5/2020 - 10/9/2020)
Oct 9 • 22:03
Sports Biz Rundown (9/28/2020 - 10/2/2020)
Oct 2 • 20:23
Gilles Mas: President of Video Experiences at Deltatre
Sep 29 • 31:27
Gilles Mas currently serves as the President of Video Experiences at Deltatre. He previously held positions such as Head of Digital at UEFA. Learn from Gilles' vast experience and expertise within the business of Football (soccer) and sports technology. ...
Sports Biz Rundown (9/21/2020 - 9/25/2020 )
Sep 25 • 11:52