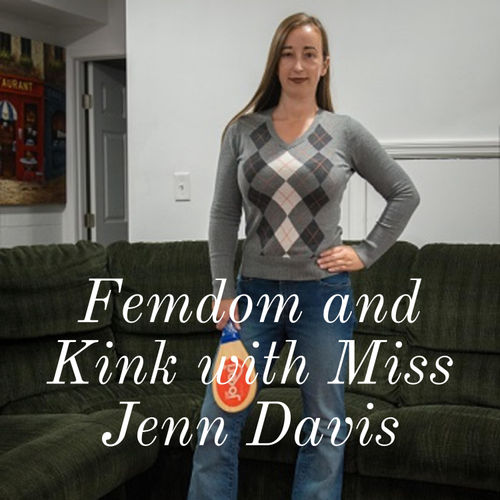 Spanking & All Things FemDom
News
This podcast is about spanking, feminization, humiliation, and all things FemDomme. New episodes come out at least once per week, on Wednesdays. Support this podcast: https://anchor.fm/missjenndavis/support
Popular episodes
A Female Led Wedding [PREVIEW]
Aug 11 • 07:16
Description from the FULL clip:...
The Beautiful Bully [PREVIEW]
Aug 4 • 24:02
Description from the FULL clip:...
William Finds His Governess [Preview]
Jul 26 • 13:08
Description from the FULL clip:...
The Gratitude Episode
Jul 14 • 04:58
Trapped in Bras and Panties [PREVIEW]
Jul 7 • 11:53
Description from the FULL clip:...
The Submission Possible Premiere for the Seattle Episode + More Info on the TV Series
Jun 30 • 05:09
Exciting news, the Premiere for the Seattle episode is TONIGHT! Listen in for more info on the show "Submission Possible", what the show is about, information about the premiere event (it's virtual), as well as info on how to catch the show if you missed the Premiere event....
A BIG Heartfelt Thank You!
Jun 30 • 02:35
Just a short message from Miss Jenn....
Mr. Anderson's Fat Bottom Gets Spanked [ FULL Audio ]
Jun 23 • 23:13
An 18-year old college woman, obsessed with her older gym teachers rather ample behind, finds a way to get her hands on it when she catches him peeping on her classmates in the girls showers.  Fearing she will tell his wife, he agrees to let her teach the lesson the next day.  He later regrets this when he finds out her lesson involves yanking him over her knee and spankin...
"Tom's Mischievous Idea for the Pool Party" FULL Audio
Jun 18 • 08:46
The ladies have another 1950's adult poolparty planned. Tom comes up with a mischievous idea which he shares with the other husbands. An idea that gets ALL the husbands in a LOT of trouble with their wives (aka the Mommies)....
Coming Out [PREVIEW]
Jun 16 • 10:48
Description from the FULL Clip:...