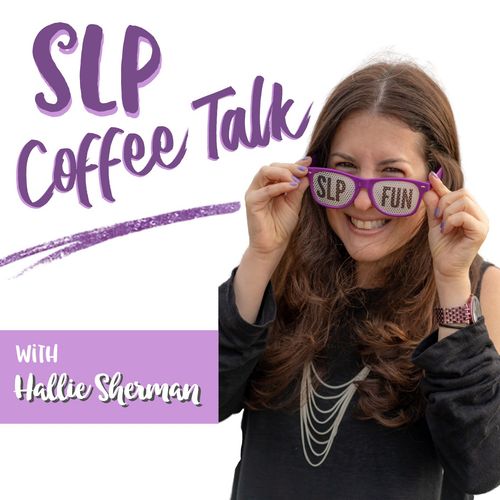 SLP Coffee Talk
Education
A speech and language podcast to motivate and inspire school-based SLPs. Just the tips, strategies, and low prep therapy ideas you need to walk into your therapy room with confidence and plan with ease.  Learn and hear stories an SLP in the trenches just like you!
Popular episodes
96: Let's Create Those Execute Functioning Plans with Tera Sumpter
Nov 29 • 32:05
Executive functioning is an important part of life for our students, but unfortunately, some of them really struggle with it. ...
95: What Does Background Knowledge Have To Do With It?
Nov 22 • 10:59
Having background knowledge on a topic gives us a significant advantage in mastering unfamiliar tasks. ...
94: ADHD and SLPs with Michael McLeod
Nov 15 • 29:28
As SLP's, we work with students with many different diagnoses and needs educationally. It is important for us to understand those needs so we can best help them. ...
93: My Favorite Games For Older Speech Students
Nov 8 • 13:00
There's nothing like a fun game to get students relaxed and engaged in learning! ...
92: SLPs Love Game with Maria Kotsonis
Nov 1 • 24:00
Are your speech therapy sessions fun?...
91: How and Why We Should Work On Main Idea In Speech
Oct 25 • 12:53
Have you ever wondered why we are working on reading comprehension or the main idea in speech?...
90: The Importance of Structured Literacy in Middle & High School with Corey Pollard
Oct 18 • 32:16
As SLPs, it's important for us to work with other professionals and specialists so that we can better understand the bigger picture when it comes to the educational needs of our students....
89: Let's Probe For Those Goals
Oct 11 • 14:21
How do you come up with relevant, functional goals for your speech students? ...
88: How to Have the Biggest Impact without Overwhelm While Creating IEPs with Catherine Whitcher
Oct 4 • 32:01
Are you excited about the thought of IEPs meetings? ...
87: Let's Talk To Kids About Our Brains (Executive Functioning and More!) with Danielle Kent
Sep 27 • 26:19
As SLP's, we know that students all develop and think differently. ...