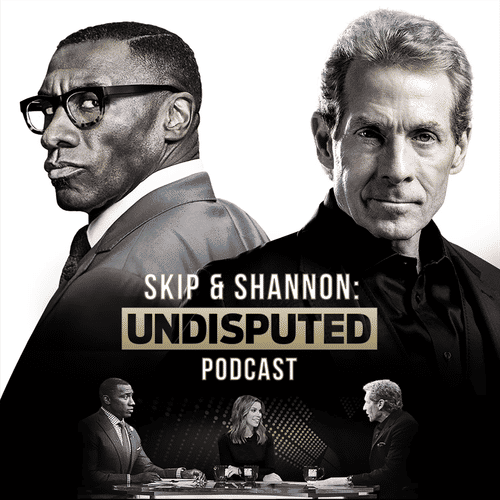 Skip and Shannon: Undisputed
Sports • News • Society-and-culture
The Skip and Shannon: Undisputed Podcast. Skip Bayless, Shannon Sharpe, and Jenny Taft discuss the biggest stories in the world of sports. It's unscripted and unfiltered. Don't miss the television show Monday-Friday at 9:30am ET on FS1.
Popular episodes
Full Show (Cowboys' loss to the 49ers, Bucs/Eagles, AB on TB12)
Jan 17 • 02:00:42
Full Show (Texans fire David Culley, Cowboys/49ers preview, MJ vs. LeBron)
Jan 14 • 01:48:08
The Skip Bayless Show - PREMIERE EPISODE
Jan 13 • 54:10
Hey Undisputed fans! Here is the PREMIERE EPISODE of Skip Bayless's brand new FOX Sports podcast: The Skip Bayless Show. Be sure to subscribe, rate, and review!...
Full Show (Lakers/Kings, Micah Parsons, Westbrook's struggles, Ben Simmons' latest)
Jan 13 • 01:59:01
Full Show (AB's latest, Grizzlies/Warriors, LeBron playing center, Cowboys' outlook)
Jan 12 • 01:43:11
Best Of (CFP National Championship recap + Bryce Young's pro ceiling)
Jan 11 • 34:30
Full Show (Georgia wins the CFP National Championship, MVP: Rodgers vs. Brady, Brian Flores fired, Lakers)
Jan 11 • 01:59:43
Best Of (Super Bowl LVI predictions + NFL MVP race: Brady vs. Rodgers)
Jan 10 • 25:55
Full Show (Cowboys/Eagles, AB + TB12, Super Bowl LVI predictions, NFL MVP race)
Jan 10 • 01:59:27
Full Show (Bucs release AB, Baker Mayfield's future, Kawhi's return?, MJ vs. LeBron)
Jan 7 • 01:40:38