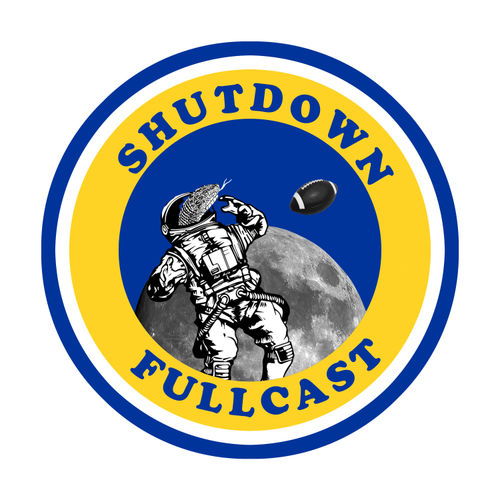 Shutdown Fullcast
Sports • News
The Shutdown Fullcast, the world's only college football podcast, is only about college football when there are no weirder topics available. However, there are not many topics weirder than college football. Hosted by Spencer Hall, Jason Kirk, and friends.
Popular episodes
Rolling Dice To Fill Every Open College Football Coaching Gig
Dec 1 • 01:31:02
Advice Show III: Return of the Advice
Nov 24 • 01:20:43
The Advice Show Trilogy comes to a thunderous end with THE RETURN OF THE ADVICE, with perfect answers including: ...
THANKSGIVING ADVICE FOR 2021 (Or, You Had Me At "Cool Whip And Pudding Mix")
Nov 17 • 01:41:39
The intrepid crew of the good ship Fullcast are joined by Michael Felder and Emily Kirk for a series of loud arguments concerning Thanksgiving and the celebration thereof....
Giving Tuesday (or alternately: The Advice Episode)
Nov 10 • 01:17:49
On what we like to call #GivingTuesday, the Fullcast crew opened the floor for those seeking advice. On the way to solving all of our reader's life problems we invented the Georgia Divorce Ranch, Cryptocurrency for Kids, and the world's dankest roulette wheel. Put all of your listening dollars on 69, and subscribe and thrive. ...
Be Someone's Emotional Support Monkey Today
Nov 3 • 58:09
DESERT ISLAND VIDEO GAMES DRAFT
Oct 27 • 01:21:33
The intrepid crew of the good spaceship Shutdown Fullcast takes a mid-season break from their ceaseless analysis of college football to stage a mock draft of video game franchises you'd take to a desert island. 
Backs are stabbed over Dr. Mario! Fronts are stabbed over Zelda! Ryan does a pretty great Wave Race voice!
And stalwart Cap'n Surber reveals unexplored depths of com...
Hey football recruit, do you like ice storms and smooth jazz?
Oct 20 • 01:11:30
On this episode, we have guest Michael Felder from Hand in the Dirt to discuss the marvels of Arkansas QB KJ Jefferson, going to the movies around retirement home schedules, how the wedge salad is "The Bloomin' Onion of healthy foods," the terror of the fade route, and Spencer tries to convince everyone the best job in college football involves the alma mater of the most s...
What's the dumbest fight you've ever witnessed?
Oct 13 • 01:27:25
We talk about the stupidest fights we've ever seen. Then, we review a simply incredible list of reader submitted fights including: ...
You Can't Fry Time
Oct 6 • 01:23:42
This week the Fullcast discusses trading Florida for Italy, why Big Tex should be burned down every year at Texas/OU, discusses how potatoes are a more desirable commodity than time, looks at how hard Arkansas and Ole Miss will try way too hard to make something happen this weekend, and we beg everyone to please stop putting Arizona in the cart. ...
UNDUE DILIGENCE: The Internet's Only College Football And Financial Advice Podcast
Sep 29 • 01:32:01
The thrilling conclusion to our Summer Stonks Challenge
We get a pretty long way into the show before we realize we're creating a financial crime … or is it a mutual fund??
Jason and Holly go on a heist, leaving Ryan and Spencer to preview Week 5
Does anybody want to be our CFO? Jail time all but guaranteed
Please visit sunny preownedairboats.com
See Privacy Policy at https://a...