Sedano, LZ & Kap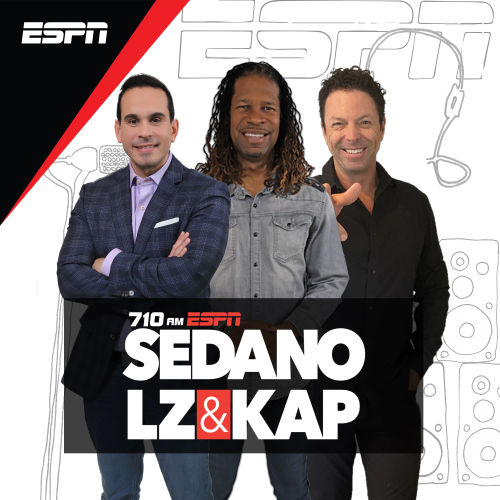 ESPN Los Angeles, Jorge Sedano, LZ Granderson, Scott Kaplan
sports
Jorge Sedano and LZ Granderson welcome in Scott Kaplan to the afternoon show. Jorge's in-depth knowledge of the NBA mixed with LZ's entertainment background and Scott's unorthodox style is a great fit for your drive home.
Wondering where to start with Sedano, LZ & Kap? Fans of the podcast have clipped their favorite moments: check out a list of the best episodes below. Want more podcast clips?
Get the Shuffle app.
Best Episodes
HR 2: The Problem!
Sep 17, 2020
"Patrick Beverly jumped on a table and repeatedly screamed "I just won the f***ing championship""
4
It's Wednesday which makes it a Momma Momo day! Ramona joins Sedano and LZ to reach to the Clippers lost. Plus, Momo has shares some thoughts about Kawhi. Sedano and LZ have callers share their reactions on this Clipper collapse. And, what you need to know!
Kyle Kuzma joins Sedano & LZ
Dec 4, 2020
"Kyle Kuzma on why he deleted his Twitter"
1
Los Angeles Lakers, power forward, Kyle Kuzma joins Sedano and LZ. Kyle mentioned what was the worst part of being in the bubble. He shares his thoughts on how much he's grown in the league. Plus, Kyle Kuzma gets sassy with Sedano. And, sorry LZ there's no more PS5's. 
Check out similar podcasts