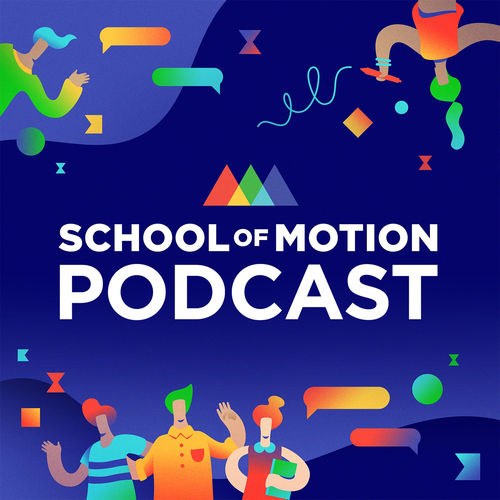 School of Motion Podcast
Arts • Education
A show for MoGraph artists by MoGraph artists. We interview Designers, Animators, Producers, and other folks related to our industry. We get deep into the geeky world of Adobe After Effects, Cinema 4D, Photoshop and Illustrator. We talk about the business and art of Motion Design. Dig in.
Popular episodes
Living In The Future with Jim Geduldick
Dec 1 • 01:03:10
How can you future-proof yourself as an artist? You've already learned After Effects and Cinema 4D. You read the industry feeds and follow the right people on social media. You're as "up to speed" as you're ever going to get...but new things keep appearing on the horizon. How can you make sure you don't get left behind? Join Jim Geduldick, the Director & SVP at Dimension S...
How Video Editors Can Gain Superpowers - Premiere Gal Kelsey Brannan
Nov 17 • 59:43
You need to add motion graphics to your video editing tool belt. Even if you are studio-based, there's constantly new tricks to learn and master just to stay competitive. VFX and motion graphics can be your secret weapons, but how do you find the time to do it all? Premiere Gal's Kelsey Brannan is here to show you how to become a Jack(ette) of All Trades. You don't want to...
How to Skip School and Find Success as a Director - Reece Parker
Nov 3 • 50:31
Do you need to go to school in order to build a lasting, fulfilling career as an artist? You'll certainly pick up some great techniques and meet a lot of cool people. But does that mean you can't find success as an artist unless you have a piece of paper on your wall? Reece Parker, freelance animation director and illustrator, is here to share the highs and lows of his jou...
Quadriplegia Can't Stop David Jeffers
Oct 20 • 45:42
David Jeffers started a music production company and an online record label as a pioneer of digital media. Then, just as his career was taking off, he suffered a tragic accident that left him paralyzed from the neck down. After the accident, David sought to turn this life-changing event into an opportunity. David's story isn't only an inspiration for overcoming hardship, b...
It's a Charade with Dr. Dave
Oct 6 • 37:58
Imposter Syndrome is one of the more insidious parts of, well, everyone's life. From famous musicians to iconic actors to the first man that walked on the moon, we all experience this sensation from time to time. As artists, we often feel it even stronger since our work is so subjective. How do you overcome the fear that you just aren't good enough? We asked Dr. Dave Lande...
Do the Hustle with Nick Greenawalt
Sep 22 • 46:22
When you're starting out as a freelancer, it's a shock to system to learn that your hopes, dreams, and even talent might not be enough to pay the bills. There comes a time when many artists decide to wade into the strange world...of the hustle. Nick Greenawalt—a Philadelphia-based motion designer—knew he needed to outwork the competition to make his career a reality. He's ...
Newer Software for 2D Character Animation - Danni Fisher-Shin
Sep 8 • 54:08
Have you ever wondered what comes next for 2D animation? It's a style that never goes out of fashion, no matter how the trendy tides ebb and flow. From hit television shows to iconic video games and—of course—the best MoGraph around, the second dimension has a lot to offer. But where is it headed next? Join Danni Fisher-Shin, an Art Director at Scholar, to hear her experie...
Designing the UI of Tomorrow - Stephen Lawes of Cantina Creative
Aug 25 • 01:14:57
What's HUD got to do with it? Sitting at the nexus of Visual FX and Motion Design is the strange and wonderful world of Screen Design. Stephen Lawes is the Creative Director and Co-Owner of Cantina Creative, a Los Angeles-based visual effects and design studio. They've worked on enormous films and TV shows, from Furious 7 and Blade Runner 2049 all the way to the films and ...
Being the Smarterest Artist - Peter Quinn
Aug 11 • 01:34:50
If you're a motion designer in these modern times, you've likely thrown one or two videos up on social media. It can often feel like those side projects are just wastes of time, but that's not true. You're learning new skills, inspiring other artists, and—every so often—putting your work in front of the exact right audience to land a life-changing job. Join Peter Quinn as ...
How to Start a New Studio with Mack Garrison of Dash Studios
Jul 28 • 01:10:38
Have you ever thought of starting your own studio? How do you even begin? There are so many questions that many people don't get past step one, which is why we brought in an expert to share some much-needed wisdom. Mack Garrison is the co-founder and Creative Director of Dash Studios. He's not only an outstanding artist, but he has an intimate understanding of how our indu...