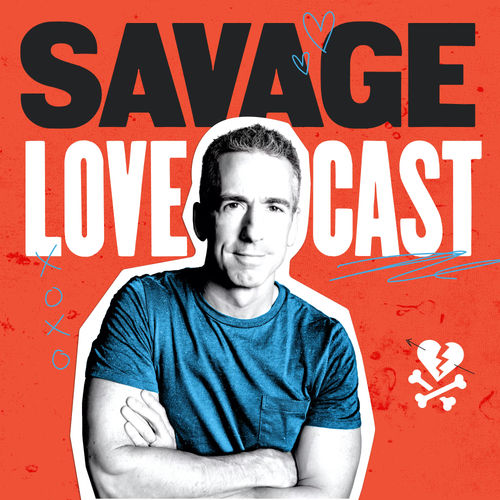 Savage Lovecast
Health-and-fitness • Society-and-culture • Comedy
Dan Savage, America's only advice columnist, answers your sex questions and yaps about politics. To record a question for Dan to be answered in a later podcast, call 206-302-2064. For a much longer version of the show, with no ads, visit savage.love and get yourself a subscription.
Popular episodes
Savage Lovecast Episode 787
Nov 23 • 52:47
Happy Thanksgiving, and welcome to the homo takeover! We'refocusing on queers exclusively this week, so MOVE OUT OF THE WAY, breeders. ...
Savage Lovecast Episode 786
Nov 16 • 56:33
A group of friends get together regularly and do molly together. But there's one dude in the group who gets a little too touchy feely with the women, asking if can touch them in…intimate ways. How can they tell him to knock it off without ruining the groovy vibe?...
Savage Lovecast Episode 785
Nov 9 • 50:43
Do you have queer imposter syndrome? This woman thinks she does. Now that she has her first girlfriend, a little, mean voice in her head tells her she faking it. ...
Savage Lovecast Episode 784
Nov 2 • 53:01
A woman in an open relationship with her bi husband, will sometimes indulge in threeways with men. But these men almost always ask to film the fun. Isn't this just asking for free porn? It makes the caller feel like an unpaid sex worker. ...
Savage Lovecast Episode 783
Oct 26 • 48:31
A woman and her husband recently had their wedding celebration. She gave him the full hall pass to go party down with his pals and bring in some sex workers. She stayed home with her gal pals. Now, she wants to exact SEX REVENGE, and have a dalliance herself. Is this so wrong? ...
Savage Lovecast Episode 782
Oct 19 • 50:27
Our opening "Sexcess" story features a woman who discovered she's natural born pegger. After some initial reticence, now her man begs for it. ...
Savage Lovecast Episode 781
Oct 12 • 55:14
Ok, exactly how many people need to be involved for it to be called an orgy? ...
Savage Lovecast Episode 780
Oct 5 • 50:26
"Wait. Where did that flared base, glass butt plug go? Oh, that's right! It's still up my butt!" The caller tried to do everything right. But she might need surgery to get it out....
Savage Lovecast Episode 779
Sep 28 • 52:45
Wedding drama ahoy! A man's dad had a fight with his sister. Years later, the sister got married, and at her wedding, her dad orchestrated a big walk-out of many of the family, leaving the bride in tears. (That's some stone cold revenge right there.) Should the caller break off contact with his dad over this?...
Savage Lovecast Episode 778
Sep 21 • 49:26
It's the sight that strikes fear in everyone's hearts: WHITE DREADS. One of his lovers has them, and just doesn't wanna cut them off. His other partners are offended. Should he keep seeing this woman? Is she oblivious to the connotations, or a bit of a troll? ...