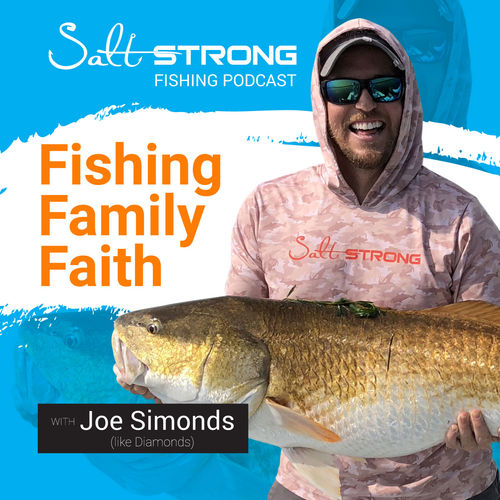 Salt Strong Fishing
Sports
Attention Anglers! Download and listen to the most entertaining fishing interviews to ever make it on a podcast, and get to know some of the world's fishing celebrities like never before.
Popular episodes
EP 366: How To Catch Sheepshead On Bridge Pilings
Dec 2 • 38:16
EP 365: Rod Building 101 (Learning Lessons On Building Great Fishing Rods)
Nov 30 • 52:17
UNCHURCHED #108 - Why My 2-Year Alcohol Experiment Is Now Over...
Nov 28 • 21:20
EP 364: How To Catch Mangrove Snapper On This Shrimp Rig
Nov 25 • 34:43
EP 363: Speckled Trout On Demand
Nov 23 • 35:27
It's almost here! The ultimate online course on catching trout from Texas to Florida to North Carolina (and everywhere in between). So in this podcast, we briefly discuss the upcoming course with Capt. Peter Deeks (and a monster lineup of top trout guides) along with sharing some great speckled trout tips for the late fall and winter....
UNCHURCHED #107 - My 10-Year Old Daughter Brought Me To Tears With One Shocking Sentence...
Nov 21 • 19:22
Being a parent isn't easy. Some days you get it right (or at least feel like you did), and some days you feel like you failed. I had a recent conversation with my 10-year old that quickly made me realize I had failed her in one of the most important departments of her life....
EP 362: What if we RELEASED ALL FISH for an entire year?
Nov 18 • 49:21
A recent video released by Simms (about the striped bass decline up north) had a very clear smoking gun... the recreational angler....
EP 361: Best Cold Weather Fishing Gear
Nov 16 • 21:45
Fishing in the winter months can be amazing. The fish are all congregated together (so if you find one, you usually find a bunch of them), plus there aren't as many knuckleheads out on the water....
UNCHURCHED #106 - My Biggest Regret Is Not Sharing This...
Nov 14 • 18:10
EP 360: Why Most Bass Anglers FAIL At Inshore Saltwater Fishing
Nov 11 • 56:19
In this episode, we bring on the famous pro bass writer and interviewer Rob Newell to discuss the main mistakes that hold bass anglers (even really good ones) from having as much success as they want when saltwater fishing....