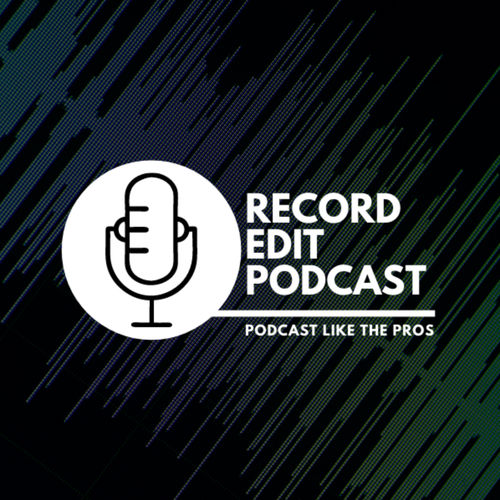 Record Edit Podcast
Education • Business
I'm Bradley Denham and I want to show you how to podcast like the pros, by learning from the pros! I'm a full-time, celebrity podcast producer in Hollywood & these are my conversations with the leaders, listeners, and innovators of the Podcast Industry. www.RecordEditPodcast.com
Popular episodes
Podcasting Your Way Out of $100k+ in Student Loan Debt (It's The Bearded Man | Bobby Hobert)
Nov 1 • 47:05
Bobby Hobert (@bobbbaaaay) aka The Bearded Man is 26 years young from Chicopee, Massachusetts now living in Los Angeles, CA. After graduating college from Bentley University of May 2016, "Bobbbaaaay" was unsure of what he wanted to do next. He launched and hosted "Purpose in the Youth Podcast" where he began documenting the stories of passionate people. ...
How to Repurpose Podcast Clips into 171k+ TikTok Followers (Stefanie Maegan | Broke Girl Therapy)
Oct 25 • 30:22
Stefanie Maegan (@stefaniemaegan), host Broke Girl Therapy, is a 30 something year old serial dater who has trouble looking for love in Los Angeles. She documents every experience as her form of therapy to help her separate the difference between relationships and situation-ships. ...
Debunking Podcast Growth Myths & Why Most Podcasts Fail (Record Edit Roundtable)
Oct 22 • 48:32
Record Edit Podcast Founder, Bradley Denham (@bradleydenham), Dustin Knouse (@dustinknouse), VP of Creative, and Brendan Woolwine (@brendan_woolwine), the Head Editor, tackle the most commonly asked podcasting questions in our very first Roundtable discussion. ...
Why Your Podcast is the Ultimate Networking Hack & How to Thrive in the Creator Economy (Tom Boyd | Creators Are Brands)
Oct 18 • 01:02:51
Tom Boyd (@bonusfootage) is the man behind Creators Are Brands, the show that explores how storytellers are building brands online. He remains fascinated by how individuals are building brands around their individualities....
SiriusXM and Audio Up to Produce Original New Content, Google Podcast Blocks Shows with Underage Guests
Oct 15 • 04:17
Google Podcast blocks shows having underaged guests by removing their content from the platform. ...
How Podcasts Are Changing Journalism & Storytelling Secrets of a 100-Year-Old Brand (Daniel Loria | Boxoffice Podcast)
Oct 11 • 44:04
Heavyweight Goes Exclusive On Spotify As Joe Rogan Knocked Out Of #1 Spot & New Tech You Don't Want to Miss Out On
Oct 8 • 04:29
Joe Rogan leaves the top spot on Spotify! ...
3 Podcast Editing Tips to Save HOURS & Edit FASTER
Oct 6 • 06:45
How to Grow Your Podcast Audience By Getting in Front of More Ideal Listeners (Dan R Morris | Tracing the Past)
Oct 4 • 57:21
THIS WEEK ONLY - Get our flagship training "Podcast Influencer Formula" + 40 other premium podcasting courses for less than a new microphone, link below...
Spotify Battery Drain Bug, Competing With Apple Podcast Subscriptions, & How True Crime is Making a Difference
Oct 1 • 07:52
Kids can now host their own podcast! ...