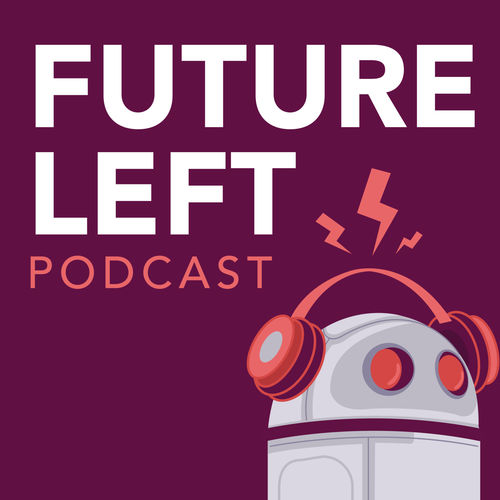 Podcasts - Future Left
News
Future Left Podcast is a weekly podcast supported by www.futureleft.org. We're talking about all things future: tech, climate change, conflict, labor, and beyond!
Popular episodes
Ep. 220: Economy Bad
Nov 23 • 01:09:56
Ep. 219: The Horror, The Horror
Oct 29 • 54:24
This week we are talking about various aspects of the very real dystopian horror setting that capitalism is making out of our lives and those of working people around the world. ...
Ep. 218: Swindlers List
Oct 22 • 50:48
we talk about the newest edition of the Forbes 400--the richest evil bastards on the planet....
Ep. 217: Burning Down the Housing Market (Ft. Saoirse Gowan)
Oct 4 • 01:10:12
Aaaaand we're back. Sorry for the unexpected hiatus. We've had a few life events that pulled us away from the podcast, which is unfortunate, but bound to happen....
Ep. 216: Shout Out To Wallace Shawn
Sep 15 • 01:14:28
A quick note: we love doing Future Left, and we're going to keep doing it for as long as we are able. But the reality is that we need your support. We are currently taking our time with new episodes because we are trying to put some thought into a new direction for the podcast. We want Future Left to be your #1 go to podcast. If you want to share what your favorite thing a...
Ep. 215: Doomsday Preppin
Aug 18 • 01:07:43
In the wake of the new IPCC report and the updated MIT study on "Limits to Growth" it looks like this system that is destroying the world is going to collapse soon and maybe try to take you with it. Are you prepared?...
Ep. 214: Evil Empire (Ft. Alex Press)
Jul 19 • 55:00
Labor journalist Alex Press is joining us this week to talk about her new podcast, Primer, which focuses on Amazon, one of the most exploitative and inescapable corporations on the planet....
213: Lonestar Bullshit: Critical Race Theory Edition
Jul 11 • 59:38
Welcome to Texas, where nothing bad ever happened and everything has always been about freedom for EVERYONE, no exceptions, EVER....
Ep. 212: Care Werk
Jun 17 • 01:06:33
This episode is about care work. Child care, elder care, and just... care. It's something that at some point everyone needs, whether its getting their doo doo baby ass wiped or help turning a PDF when you turn 50....
Ep. 210: IP and So Do You
May 1 • 32:59
Property is definitely theft. Is intellectual property theft too?...