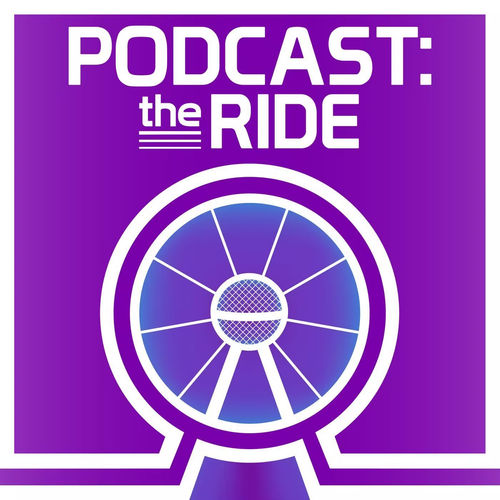 Podcast: The Ride
Leisure • Comedy
A show about theme parks hosted by three childless men in their thirties. Strap in as Mike Carlson, Jason Sheridan and Scott Gairdner share the WAY-too-many things they know about Disney, Universal, and beyond. Produced by the Forever Dog Podcast Network.
Popular episodes
Universal's Animal Actors
Dec 3 • 01:36:13
We take a look at the long running Universal show where cute animals from TV and movies do little tricks....
UNLOCKED: Teenage Mutant Ninja Turtles: Coming Out Of Their Shells Tour
Nov 26 • 02:04:24
Introducing Celebrity Sighting! With Jonathan Biting! (Bobby Moynihan)
Nov 22 • 07:48
Good morning hello! Celebrity Sighting! With Jonathan Biting! is a podcast hosted by the always candid and always hammered Jonathan Biting (a fictitious character played by Bobby Moynihan.) Each week, Jonathan talks to a new guest (a celeb playing themselves, a celeb playing someone made up, or even a celeb playing ANOTHER celeb) all about their celebrity encounters....
Cub Reporter Jason's Disney World Scoop
Nov 19 • 01:53:12
Lagoon with Steven Ray Morris
Nov 12 • 01:51:37
Steven Ray Morris (My Favorite Murder, The Purrrcast) joins us to discuss working at Disneyland's Pizza Port and the Utah amusement park Lagoon....
Millennium Falcon: Smugglers Run with Bobby Moynihan
Nov 5 • 01:21:03
Bobby Moynihan (SNL, DuckTales) joins us to discuss the Millennium Falcon attraction, his peak behind the scenes, and being a part of Galaxy's Edge. ...
The Haunted Mansion Part 4
Oct 29 • 02:32:26
t's that time of year! Time for out annual look at the Haunted Mansion. This year? The Grand Hall and The Attic! Plus, an new era of politeness and also the Avatar sequels....
The Purge with Jacquis Neal
Oct 22 • 01:38:46
Jacquis Neal (Culture Kings, What If...?) joins us to discuss the scarezones, mazes, and Terror Trams based on The Purge movies....
Mike Loves(?) Haunts 2
Oct 15 • 01:34:51
King of LA Haunts Mike Carlson visits Halloween Horror Nights, Knott's Scary Farm and a horror-themed escape room. Does it go as smoothly as previous years? The answer may surprise you....
Tower of Terror (Tokyo DisneySea) with Lindsay Katai
Oct 8 • 01:40:40
Hauntcast: The Fright is back! Lindsay Katai (Infinity Train, Teen Creeps) returns to to talk about Tokyo DisneySea's Tower of Terror. This version of the ride has an original story not based on The Twilight Zone....