Podcast But Outside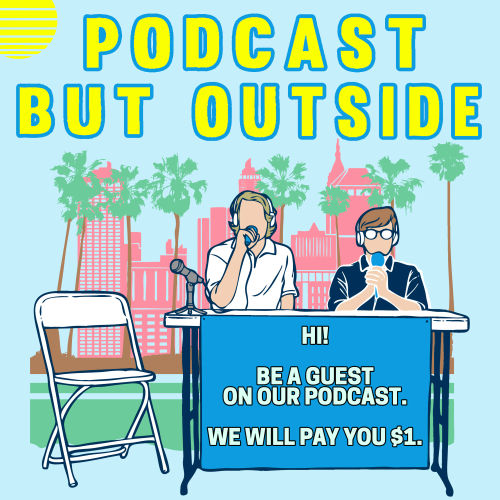 Cole Hersch and Andrew Michaan
comedy, "society & culture"
A podcast, but outside. Featuring fascinating interviews with random strangers who happen to walk by. Hosted by Cole Hersch and Andrew Michaan.
Wondering where to start with Podcast But Outside? Fans of the podcast have clipped their favorite moments: check out a list of the best episodes below. Want more podcast clips?
Get the Shuffle app.
Best Episodes
77: Outside of Spirit Halloween
Oct 28, 2020
"Trump cares about the birds! 🥰"
4
1
Boo! We're in front of the famous and once-beloved costume shop Spirit Halloween. Guests include a stylish pair of young friends, a big family, and a man who just ate every type of wing at Wingstop. Recorded on N San Fernando Blvd in Burbank, California. (Use code PBO for 20% off at manscaped.com !)
Check out similar podcasts