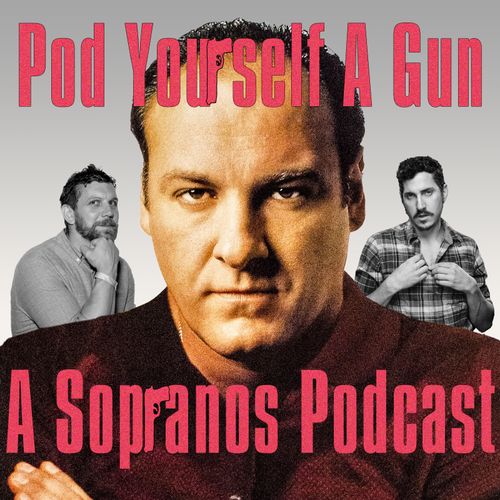 Pod Yourself A Gun - A Sopranos Podcast
Tv-and-film
Comedians Matt Lieb and Vince Mancini watch every episode of The Sopranos and talk about it with friends, fans, actors, writers, TV critics, and anyone who loves The Sopranos as much as them.
Popular episodes
Teaser: Frotcast 495, Will Smith's Weird Sex Life, With Laremy And Joey Avery
Nov 26 • 04:32
604: The Fleshy Part of the Thigh with Katrina Davis
Nov 24 • 01:42:24
Sometimes I go about in pity for myself, and all the while a great pod carries myself gun...
TEASER – Britney Spears' Fiancé
Nov 19 • 05:54
603: Mayham, with Ashley Ray from TV, I Say
Nov 17 • 01:31:40
You're Not Dead You're on Pod Yourself A Gun...
TEASER – Joe Sinclitico's Wedding
Nov 12 • 06:57
602: Join The Club, with Dave Weigel of the Washington Post
Nov 10 • 01:32:48
Kevin (Finnerty) Can Wait...
TEASER – Pete Davidson's Make-A-Wish
Nov 6 • 06:46
601: Members Only, with Mike Recine of the Sitdown Podcast
Nov 3 • 01:31:35
The Many Pussies of Newark...
Bada B-Stories: Music from Pod Yourself A Gun (S1-5)
Oct 28 • 01:08:44
The new season of Pod Yourself A Gun starts NEXT WEEK! While you are counting the minutes for episode 601 to drop, we decided to create a compilation of every parody song and some of our favorite musical clips and mash ups and present it to you in the form of an album. Something to ease the pain while you wait for the fresh new slop....
TEASER – Dune and Sex Robots
Oct 27 • 06:54
Here's a little clip from this week's Frotcast. You can listen to the whole thing by becoming a Patreon! It's worth it!...