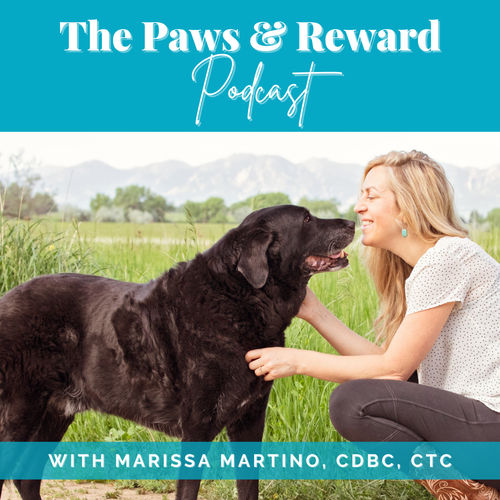 Paws & Reward Podcast
Science
Join Marissa Martino, certified dog behavior consultant (CDBC, CTC), of Paws and Reward on her podcast where she stops and reflects on behavior change, dog training, the human-canine bond, and the relationships with our loved ones!
Popular episodes
Ep 33: Ditching Training Resolutions with Sarah Stremming
Dec 6 • 01:02:10
Join Marissa and Sarah Stremming of Cog-Dog Radio discuss why you should ditch your training resolutions. Wait - what?!?! Isn't this a dog training podcast? Hear us out! We definitely want to encourage you to train with your dog(s). And, we also want to help you alleviate some of the pressure that a "new year, new you" attitude brings. In this episode, we talk about why re...
Ep 32: Building Canine Resilience with Dr. Patricia McConnell
Nov 29 • 01:00:31
On episode 32 of the podcast, Marissa is thrilled to speak with one of her heroes, Dr. Patricia McConnell. She is not one that needs a formal introduction since she's a household name when it comes to behavior and training, has written so many books Marissa has lost count, and has made such an innovative impact on our profession! Today we will be discussing how to build re...
Ep 31: What is a LIMA Being?
Nov 15 • 57:58
In Episode 31, Marissa is joined by her fellow colleagues and co-founders of LIMA Beings, Dr. Chris Pachel, Lynn Ungar, Barrie Finger, and Kathy Sdao. They discuss the drive behind their triggers and what hooks them. As we try to discover the things that make us reactive, we can learn to let things go. We react to situations in certain ways and because of those reactions w...
Ep 30: Real Behavior Change for Reactive Dogs with Sarah Stremming
Nov 1 • 01:06:43
Ep 29: "All of it Belongs" with Christie Catan
Oct 18 • 47:15
Ep 28: Imposter Syndrome with Sarah Stremming
Oct 11 • 49:36
Ep 27: Our Relationship to Control with Juliana DeWillems
Oct 4 • 01:00:54
Ep 26: Taking Your Pup into the Great Outdoors with Amber Quann and Charissa Carvell
Jul 19 • 58:57
In the last episode of Season One, Marissa interviews Amber Quann of Summit Dog Training in Fort Collins, CO and Charissa Carvell of Alpine Behavior and Training in Glenwood Springs, CO about preparing your dog for the great outdoors! This is one of Marissa's favorite topics since she fell in love with hiking and being outside through her dog Sully. They discuss why taking...
Ep 25: The Punishment Fallacy with Michael Baugh
Jul 2 • 55:44
Join Marissa Martino interview Michael Baugh as they discuss what a LIMA-based (least intrusive, minimally aversive) behavior consulting approach looks like for our human and canine learners. Marissa and Michael also discuss why they avoid using punishment-based behavior modification strategies since they can lead to fear, frustration, and/or aggression from the dog, remo...
Ep 24: Observing Our Process and Moving Forward with Matt Beisner
Jun 21 • 01:05:05
Join Marissa Martino interview Matt Beisner of The Zen Dog in Los Angeles, CA, and the Nat Geo WILD and Disney Plus show Dog: Impossible. Together they explore the gifts the process and experience of training dogs and their people have to offer, from being a part of the dog's learning process while offering them agency, to co-creating solutions with our clients, to being b...