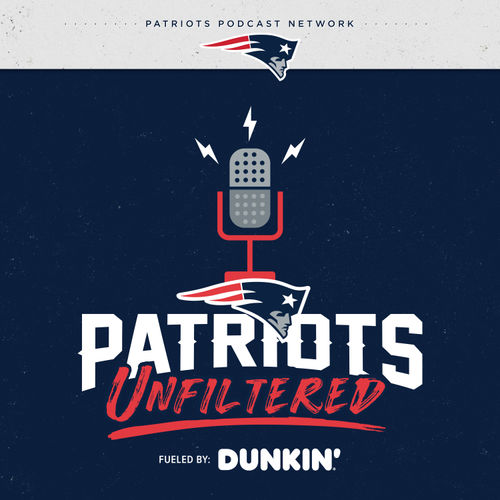 Patriots Unfiltered
Sports
Take a break with Patriots.com's Fred Kirsch, Paul Perillo, Erik Scalavino and Mike Dussault as they bring you the latest New England Patriots and NFL news and talk direct from Gillette Stadium. For more information about New England Patriots official podcasts, visit Patriots.com/podcasts.
Popular episodes
Patriots Unfiltered 11/24: NFL Week 12 Picks and Titans Preview
Nov 24 • 02:01:14
Patriots Unfiltered 11/23: Falcons Takeaways, Titans Preview, New England atop AFC East
Nov 23 • 02:01:08
Patriots Unfiltered 11/17: NFL Week 11 Picks, Falcons Preview, Midseason Assessments of Offseason Acquisitions
Nov 17 • 02:02:21
Patriots Unfiltered 11/16: Browns Takeaways, Falcons Preview
Nov 16 • 01:59:08
Patriots Unfiltered 11/11: NFL Week 10 Picks, Browns Preview, Odell Beckham Jr. Latest Rumors
Nov 11 • 02:01:55
Patriots Unfiltered 11/10: Turning the Page to the Cleveland Browns, Odell Beckham Jr. Talk, Wednesday Practice Update
Nov 10 • 01:50:52
Patriots Unfiltered 11/9: Panthers Takeaways, A Path to the Playoffs, Odell Beckham Jr. and More
Nov 9 • 01:59:12
Patriots Unfiltered 11/4: NFL Week 9 Picks, Panthers Preview, Thursday Practice Report
Nov 4 • 01:56:56
Tune-in as we wrap up our preview of the Carolina Panthers. We discuss what CB Stephon Gilmore had to say to the media when asked about being traded to the Panthers earlier this season. Mike Dussault offers his observations from Thursday's Patriots practice and a few injury updates. Plus, we go around the table to preview the entire slate of NFL Week 9 games and offer our ...
Patriots Unfiltered 11/3: Previewing the Panthers, Wednesday Practice Report
Nov 3 • 01:53:03
Patriots Unfiltered 11/2: Takeaways from the win over the Chargers, Trade Deadline Talk
Nov 2 • 02:00:35