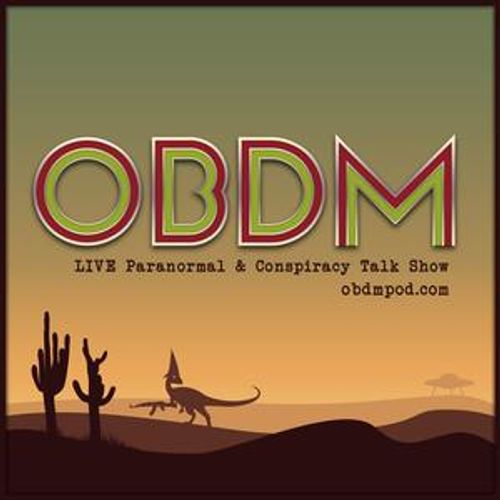 OBDM Conspiracy Paranormal
News • Society-and-culture • Comedy
These segments are clips from the main episodes. Full episodes can be found by searching for OBDM. Just look for the night time dinos. We cover UFOs, Missing 411, the paranormal, conspiracies and current events, with a touch of humor.
Popular episodes
Fairies and the Skinwalker Ranch Connection
May 27 • 00:00
2020 Headlines and News! part 1
May 24 • 00:00
Pentagon UFO Video: Declassified
May 10 • 00:00
The 2017 New York Times article sparked a new wave of interest in UFOs by the mainstream media and passive observers. UFOs, or UAPs as they are now called, seem to be taken more much seriously than ever before. The craft in the video displays some incredible abilities that defy what most would consider is humanly possible. Along with the 2017 story came of a flood of docum...
The Secret of Skinwalker Ranch
Apr 8 • 00:00
Skinwalker Ranch has been the sources of stories, controversies and mysteries for decades. The new owner of Skinwalker Ranch has been more open to allowing media into the ranch and sharing the results of experiments taking place on the ranch. This series on the History Channel is kind of picking up where George Knapp and the NIDs team left off....
Bigfoot, Wildmen and David Paulides
Feb 23 • 00:00
I've listened to many many hours of Mr. Paulides talk about Missing 411. Never have I heard him start of his presentation the way he started today (Jan 19 2020): Talking about Bigfoot. It was the most interesting talk I've heard concerning bigfoot in a long long time. He talked for about 2.5 hours. He talked about "Bigfoot" for the 1st 1.5 hours of his lecture. It was beyo...
Who Is D.B. Cooper?
Oct 25 • 00:00
Missing 411 - Dimensional Traps
Sep 15 • 00:00
The Missing 411 phenomenon involves a set of coincidences. In this segment Mike proposes an idea that a serious of coincidences could be a trigger or and alert to set off an trap, to capture a human....
Missing 411 in Malaysia | Nora Quoirin
Sep 8 • 00:00
The Nora Quoiri missing person case is very interesting and disturbing. How can a 15 year old teenager die of hunger and stress in the course of 10 days? Not a lot makes sense about this event. While this is tagged as "Missing 411" that's ultimately not for me to determine, that for David Paulides to decide (if he's even aware of this case). Some say she was lured away fro...
The Secret Space Program and the Space Marines
Sep 2 • 00:00
Captain Randy Cramer claims to have been in the Space Marines for around 20 years. People coming forward is not a new thing, Corey Goode has talked about his experiences within the Secret Space Program many many times recently. Obvious, all this information should be taken with a grain of salt but we can't forget get what the UK "Hacker" Gary McKinnon found when looking th...
Storming Area 51 and other UFO Disclosure
Aug 5 • 00:00
Since the 2017 New York Times article about Navy pilots chasing UFOs, the drip of new UFO news has turned into a stream. As an avid following and reader of everything UFO related, I find all the news fascinating and exciting but I am cautious. I'm wary because I think if the mainstream media is pushing a story, they have an angle and it's typically not honesty. When it com...