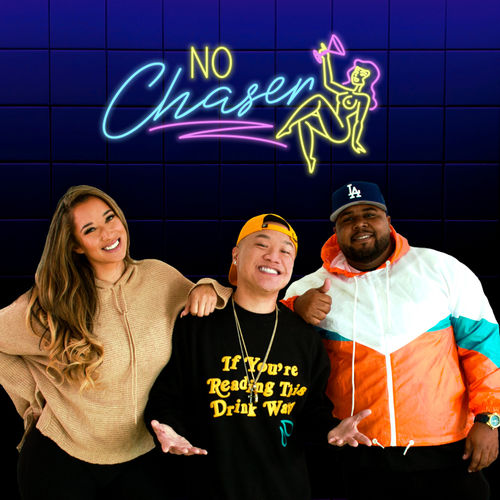 No Chaser with Timothy Chantarangsu
Society-and-culture
Dating and relationship advice from Timothy Chatarangsu, Nikki Blades, and Ricky Shucks.
Popular episodes
E145 The Worst Guest on Ridiculousness + Dealing with Chanel's Laugh with Steelo Brim
Dec 1 • 59:15
E144 Female Comedians Get No Respect + How to Grow Your Business with Cynthia Luciette & Cedric Rogers
Nov 24 • 01:05:34
We got two episodes in one this time to show y'all the different sides of the industry! My boy Cedric Rogers tells us about business and venture capitalists while comedian/writer Cynthia Luciette shares her experience being a funny woman in show business and the disrespect she's had to deal with!...
E143 DJ D-Wrek Speaks on His Beef with Eman Hudson and Smashing Wildnout Girls
Nov 17 • 01:00:12
The OG DJ D-Wrek stops by to reminisce about how he met Nick Cannon, his crazy tour stories, and his beef with Wildnout cast members....
E142 Do Men Consider it Cheating When Their Girl Hooks up with a Girl?
Nov 10 • 57:03
The gang sits around and discusses everything from cheating to body hair to threesomes on another spicy episode. Does it count as cheating if your bisexual girlfriend makes out with another girl?...
E141 Why Does My Man Still Watch Adult Videos?
Nov 3 • 55:46
We answer some of your burning, crazy ass questions!...
E140 ChunkysDead Embraces Her Hoe Stage, Starts Her Own Cult, and Twerks All Over Us
Oct 27 • 01:08:07
The crazy TikToker ChunkysDead stops by to tell us about her bucket-list of smashing during her hoe stage, her ridiculous creative process, and even gives out a couple lap dances!...
E139 Embarrassing Cringey Stories of Our Brokest Days + Squid Game Opinions
Oct 20 • 01:00:38
Rick and Tim sit down for a bromantical conversation of the brokest days of our lives and discuss the Squid Game Phenomenon....
E138 Episode 138
Oct 13 • 01:01:02
E137 Threesome Advice, Disrespectful Hooters Stories, & What Happens in the VIP at the Strip Club??
Oct 6 • 01:06:55
Boze stops by for another episode to answer your questions and tells us some crazy stories from her past jobs....
E136 Serial Killers, Getting Beat Up, and Needing Some D - Boze is Crazy
Sep 29 • 01:13:26
Crazy ass Boze stops by to discuss her fascination with serial killers as we discuss the importance of communication in relationships… then we eventually end up talking about how she doesn't know how to tell boys she wants the D....