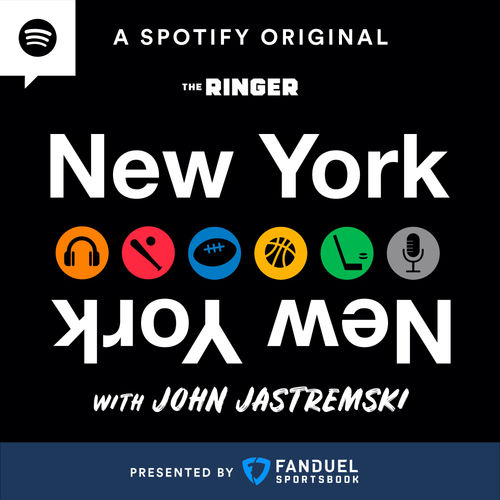 New York, New York with John Jastremski
Sports
Veteran New York sports talk host, John Jastremski, gives his unique take on all the big stories in the Big Apple and beyond including interesting guest conversations, gambling picks and reactions from you, the listener.
Popular episodes
Giants Get Rid of Garrett, Stugotz's NY Sports Session, Plus Thanksgiving/Week 12 Picks w Joe Benigno
Nov 24 • 02:03:05
JJ opens by discussing the Giants' decision to fire Jason Garrett and the other fixes the franchise needs to make (01:43), the Jets going back to starting Zach Wilson (06:55), and recapping the Knicks' win over the Lakers (08:51). Next, JJ talks with Meadowlark Media's Jon "Stugotz" Weiner about their NY upbringings, golf, and his career in radio (12:33). Then he answers h...
THE GIANTS ARE NOTHING BUT PAIN
Nov 23 • 01:10:38
JJ was live on Spotify Greenroom with Danny Heifetz to immediate react to the the Giants' embarrassing performance against the Bucs on 'Monday Night Football.' They got into why this coaching staff and front office have done little to nothing right over the years, discussed Daniel Jones's future, and reacted to a bunch of calls. ...
Few Positives in the Jets' Loss, Disjointed Knicks, and a Giants-Bucs 'MNF' Preview
Nov 22 • 01:03:04
JJ opens with the Jets' loss to the Dolphins in a game with very few positives other than the rookies (00:50) before getting to the Knicks' loss to the Bulls and why this team has a lot to figure out as they head into a tough stretch of games (07:49). Then, he breaks down to the entire Week 11 NFL slate, including the game of the year on Sunday night and some surprise team...
Why are the Jets Starting Joe Flacco? Plus, Another Bad Knicks Loss and Week 11 NFL Picks With Joe Benigno
Nov 19 • 01:34:21
JJ opens with a theory as to why Joe Flacco is starting for the Jets this Sunday (01:05), plus Julius Randle struggles in another bad Knicks loss (05:23) and the Patriots look like the real deal (09:31). Next, JJ reacts to a bunch of listener voicemails (12:16) before Old School vs. New School Week 11 NFL picks with Joe Benigno (33:26). And finally, he closes it out with s...
Mets Lose Syndergaard With Sean Fennessey Plus World Series Champion Johnny Damon
Nov 17 • 01:51:52
JJ opens with the Mets losing Noah Syndergaard to the Angels (01:24), the Nets getting blown out by an impressive Warriors team (08:43), and why Rex Ryan looks bad calling out Jets head coach Robert Saleh (12:35). Then he chats with The Ringer's Sean Fennessey for more on the Mets losing Syndergaard, Mike White crashing down to earth for the Jets, and his outlook on the Kn...
The End of the Mike White Fairy Tale and the Knicks' Lineup Issues, Plus: Bob Wischusen and Mike Carver
Nov 15 • 01:26:43
JJ opens with the clock striking midnight for Magic Mike White after another horrific Jets performance and why he expects to see Zach Wilson back next week (00:54). Then, he touches on the Knicks and why they have a problem with their starters, Julius Randle, and the competitive Eastern Conference (08:30). Then the radio voice of the Jets, Bob Wischusen, stops by for more ...
The Return of Mike White, Knicks Concerns, and Week 10 NFL Picks With Joe Benigno
Nov 12 • 01:43:27
JJ opens with the Dolphins' upset win over the Ravens on 'Thursday Night Football' (00:54) before getting to why Mike White has to be the Jets quarterback until further notice (04:13). Then, he gets into the Yankees' controversial interest in Carlos Correa (08:42) and why he's a little concerned with the Knicks early in the season (13:37). Next, JJ reacts to a bunch of lis...
Around the NFL With Kevin Clark, Big East Nostalgia With Dana O'Neil, Plus an AMA!
Nov 9 • 01:48:35
JJ opens with some thoughts on the Knicks and Nets early in the season (01:23) before reacting to the horrific officiating we saw during 'Monday Night Football' (04:11). Then, he chats with The Ringer's Kevin Clark about some observations halfway through the NFL season, updated Super Bowl picks, and whether he'd buy stock in the Giants or Jets (08:48). Next, JJ answers som...
Can the Giants Dare to Dream of the Playoffs? Plus: Knicks Fall Into a Sunday Trap
Nov 8 • 01:10:39
JJ opens with a nice Giants win and whether they can actually get back in the NFC playoff mix (00:36 ). Then, he talks about Ricky Rubio killing the Knicks in what was a trap game (09:22) before touching on the Nets' fifth-straight win (12:18). Next, JJ chats with betting analyst Jared Smith about Week 9 and NFL futures (14:57) before reacting to some listener voicemails f...
The Jets Can't Have Nice Things, Plus Week 9 NFL Picks With Joe Benigno
Nov 5 • 01:32:44
JJ opens with the Jets' loss on Thursday night including the Mike White injury, the horrific defensive performance, and near back-door cover at the end (00:39). Then he gets into the Giants and why they have a very winnable game on Sunday (10:50), Brett Gardner's future with the Yankees (13:14), and the Knicks hitting a little rut (14:17) before reacting to some listener v...