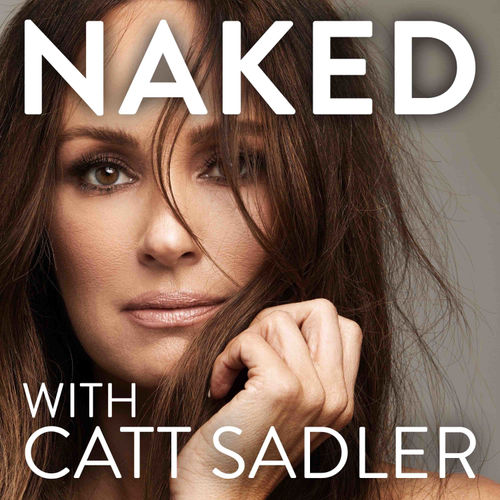 NAKED with Catt Sadler
Society-and-culture
Raw. Unguarded. Compelling. On Naked with Catt Sadler, women shed their makeup, their jewelry, and sometimes even their clothes. Come take off your armor with us in Catt''s bedroom, while listening in on the most honest and real conversations in podcasting.
Popular episodes
Introducing: It Sure Is a Beautiful Day
May 11 • 00:33
Catt Gets NAKED: Let's Get Uncomfortable
Jun 23 • 40:23
Even though we are adults, we still need advice and guidance from our parents. In today's bonus episode of NAKED, Catt calls her mother Linda Rendleman. ...
Author Eve Rodsky on invisible labor, the power of education and her 'blueberry moment'
Jun 18 • 01:25:08
This week, Eve Rodsky - author of domestic partnership bible, Fair Play - joins Catt in her bedroom for a pre-quarantine deep dive into sharing the workload at home.
Before getting into the details of her game-changing book, Eve opens up about her early life -- from being raised by a single mom in the Lower East Side of New York, to graduating from Harvard with a law degree...
Author Glennon Doyle on addiction, activism and being an effective ally for racial justice
Jun 11 • 01:11:38
This week, Catt welcomes New York Times-bestselling author Glennon Doyle to her virtual bedroom. A MUST-listen episode as Glennon, who most recently wrote the lauded Untamed, shares her own ongoing journey of learning how to best support, celebrate and stand-up for Black women in this country....
NAKED Alert - Timely
Jun 9 • 01:11
Take a quick listen as Catt explains a bit about the important #ShareTheMicNow initiative taking place tomorrow all across Instagram and on her feed @iamcattsadler. Plus, activist and best-selling author of the popular book, "Untamed," Glennon Doyle joins the show on Thursday. Don't miss this critical discussion on race, white privilege, starting over and spreading love. ...
Designer Justina Blakeney on transforming your home into a place of joy and the challenges of growing a business
Jun 4 • 01:23:55
This week, Catt welcomes the incredibly talented and overall delightful Justina Blakeney to her bedroom. One of the last NAKED interviews recorded in-person, pre-pandemic, Justina shares how she grew her interior design business from a blog, to an empire....
Actress Cara Santana on breakups, breaking barriers and activism in Hollywood
May 28 • 01:11:28
Cara Santana stops by Catt's virtual bedroom this week, and the Vida star opens up about weathering a painful breakup with her fiancé, actor Jesse Metcalfe— in the midst of a pandemic no-less!...
Kind Campaign founders Lauren Paul and Molly Thompson on bullying - and respect - in a digital age
May 21 • 01:13:38
We are back in Catt's bedroom this week, and this time, she's joined by Lauren Paul and Molly Thompson - founders of the nonprofit Kind Campaign that aims to end girl-on-girl bullying in our schools....
QUARANTINE QUICKIE - Catalina Su
May 19 • 40:22
In this week's Quarantine Quickie, we meet one of Catt's best friends - makeup artist and blogger Catalina Su. In a safely distanced in-person exchange, we learn how the two met and what is the glue that holds their relationship together. Hint: alcohol and unconditional love! Lina talks about her quarantine experience - food obsessions, stretching her fitness goals in isol...
Author Ada Calhoun on asking for help and the myth of 'having it all'
May 14 • 43:22
This week Ada Calhoun joins Catt in her virtual bedroom to discuss her book "Why We Can't Sleep: Women's New Midlife Crisis," and share insight into the many struggles Gen X women (and, frankly, all women) face today....