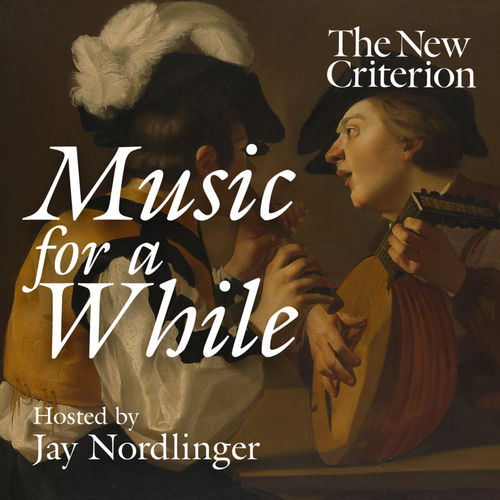 Music For a While
Music
Jay Nordlinger, music critic of <a href="https://newcriterion.com"><em>The New Criterion</em></a>, talks music – but, more important, plays music. A variety of music, mostly classical, that makes life sweeter, livelier, and richer.
Popular episodes
Music for a While #55: Nuts
Dec 3 • 00:00
This episode begins with the "Chinese Dance" from "The Nutcracker"—a ballet that has been banned in Berlin. Wokeness has hopped the pond. Jay also plays an excerpt from an old, old opera based on the tale of Orpheus and Eurydice; and an excerpt from a new opera based on the same. In addition, there is music by Franz Schubert, Daniel Asia, and Stephen Sondheim—who passed aw...
Music for a While #54: Joy in music
Nov 18 • 00:00
Nelson Freire, who passed away this month, said that pianists ought to play with joy. He did. There is a lot of joy in this episode, and sublimity, ethereality, and other qualities to savor. From Wagner to Errol Garner....
Songs and memories
Nov 4 • 00:00
A piece he was writing about soccer, believe it or not, put Jay in mind of a song. So did the title of the latest Bond movie. There have been some passings in music recently: of Carlisle Floyd, Edita Gruberová, and Bernard Haitink. Jay pays tribute to these musicians, and, as usual, to music itself....
Strains of Salzburg
Sep 23 • 00:00
In the current issue of the magazine, Jay has a chronicle on the 2021 Salzburg Festival. In this episode, he plays some of the music he discusses: from Bach to Mozart to Gershwin. (There are seven composers in all.) A marvelous array of pieces and performers....
From Mozart to Borge
Sep 9 • 00:00
The opening piece, Jay says is one of the most joyous, most exuberant pieces ever written. It is a movement of a symphony, actually—the finale. Jay closes this program with Victor Borge, the musician-comedian, or comedian-musician—but in a serious vein. There is much to soak in, in this relatively brief program. Maybe the kind to listen to twice....
Music for a While #50: Pieces from all over
Aug 25 • 00:00
It is characteristic of this podcast to contain a variety of music. But this episode is exceptionally diverse, with music by George Walker, Lili Boulanger, and Florence Price, to go with music by Mozart, Shostakovich, and Hindemith. Jay lays it out for you. Interesting and rewarding musical terrain....
Music for a While #49: Sparks
Jul 30 • 00:00
"Care to romp around in some Romantic piano music?" asks Jay. "Virtuosic Romantic piano music? High-quality salon stuff? Well, that's what we're going to do." Jay gives us a program of the talented, witty, dashing Moritz Moszkowski (1854–1925). The final piece is maybe Moszkowski's best loved: "Étincelles," or "Sparks."...
Bach and Bach-ish
Jul 15 • 00:00
Jay has a piece by Bach, and one of his best. He has another piece once attributed to Bach. And he has a third piece that may or not be—by the master, that is. In any case, wonderful music, and a highly interesting program....
Just perfect
Jul 1 • 00:00
When Jay says "just perfect," in this episode, he is referring to Marilyn Horne's singing of "At the River." This is the piece that ends the podcast. It's a little Independence Day nod. Elsewhere, Jay discusses and plays a Debussy song, two famous guitar pieces, and a piano piece by Frederic Rzewski, the American composer (also a political radical), recently deceased. A ne...
E46. Bach, beekeeping, and more
Jun 22 • 00:00
This episode begins with a poem, first published in The New Criterion, in 2002: Charles Tomlinson's "If Bach had been a beekeeper." It speaks of "the honey of C major." We then duly hear some Bach in C major. We also hear a famous aria—an aria made famous by a movie. And "Estrellita," in two different versions: the original song, plus what Heifetz did to it, or rather, for...