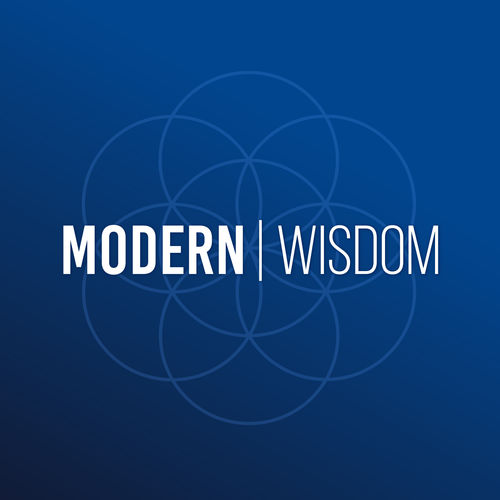 Modern Wisdom
Society-and-culture
Life lessons from the smartest people on the planet. Including guests like Dr Jordan Peterson, Ryan Holiday, James Clear, Robert Greene, Aubrey Marcus, Seth Godin, Douglas Murray, Michael Malice, James Smith, Dr David Sinclair, Mark Manson and more.
Popular episodes
#407 - Jamie Metzl - China's Plan For Global Domination
Dec 6 • 01:22:51
Jamie Metzl is a futurist, geopolitical expert and Founder and Chair of the global social movement OneSharedWorld....
#406 - Rob Pope - The Man Who Ran 15,000 Miles Across America
Dec 4 • 01:41:27
Rob Pope is an ultra endurance runner and an author....
#405 - Scott Capurro - How To Survive Thanksgiving & LGBT Politics
Dec 2 • 01:09:54
Scott Capurro is a comedian, writer and an actor....
#404 - Adam Lane Smith - 13 More Harsh Psychology Truths
Nov 29 • 01:27:45
Adam Lane Smith is a psychotherapist and an author....
#403 - Richard Betts - Why Is Climate Science So Disputed?
Nov 27 • 01:03:51
Richard Betts MBE is Head of the Climate Impacts strategic area at the MET Office, the lead author on several reports from the IPCC and a Professor at the University of Exeter....
#402 - Paul Bloom - Why Pain & Suffering Are Necessary For A Good Life
Nov 25 • 01:24:00
Paul Bloom is Professor of Psychology at the University of Toronto, Professor Emeritus of Psychology at Yale University and an author....
#401 - Rory Sutherland - The Psychology Of Transport, Google Maps & Bear Attacks
Nov 22 • 01:35:25
Rory Sutherland is the Vice Chairman of Ogilvy Advertising and an author....
#400 - 19 Lessons From 400 Episodes
Nov 20 • 01:13:13
To celebrate 400 episodes on Modern Wisdom, I broke down some of my favourite lessons, insights and quotes from the last 3 and a half years....
#399 - Rob Orchard - Terrible Journalism & Interesting Statistics
Nov 18 • 01:26:42
Rob Orchard is a journalist and the co-founder and editor of Delayed Gratification Magazine....
#398 - Life Hacks 206
Nov 15 • 01:45:44
Jonny & Yusef from Propane Fitness join me for another Life Hacks episode....