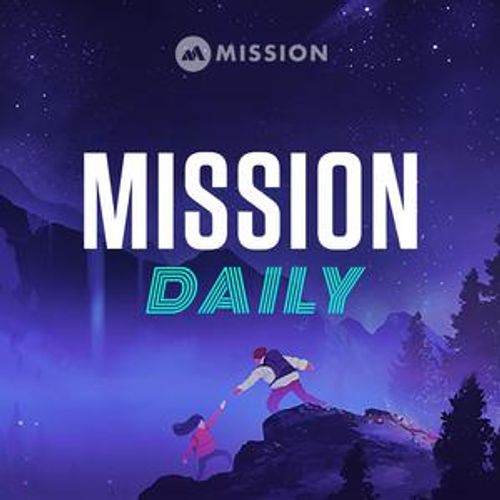 Mission Daily
Education • Business • Arts
Selected by Apple as 'Best of 2018.' Learn at least one new thing each day that will help you level up your health, wealth, wisdom, career, relationships, and business! Subscribe today.
Popular episodes
Technology, AI, and Celery Juice
Aug 7 • 16:38
It's Happy Hour Friday!...
Your Life: The Story You Love to Read
Aug 6 • 07:33
Your life is a story and you are the author of that story. How will you go about taking all of the material – your insights, failures, pains, elations – and weave it into a beautiful story?    It's tempting to create a story that others will want to read, but the pursuit of a story that leads to mass adoption and approval often ends in tragedy. The pursuit of a story that ...
Well-Reasoned Critiques are Gold
Aug 5 • 12:15
"A well-reasoned critique is worth its weight in gold." – Elon Musk    Chad and Steph discuss "well-reasoned critiques."   What are they? What are "unreasoned critiques?" How does it feel to receive both of them?    They share personal stories about being on the receiving end and giving end of both, plus offer some tips on how to seek well-reasoned critiques and get better...
Connecting More Deeply With Those Around You
Aug 4 • 08:26
The people who are around you right now are there for a reason. Either you'll recognize this and seek to connect more deeply, or continue keeping connections at the normal, superficial level....
Personal Audits, Inefficiencies, and Reconnecting With Old Friends
Aug 3 • 15:01
When was the last time you talked with that one friend? The childhood friend you haven't talked to in twelve years? The friend from high school that you haven't seen in a decade? Your best friend from college? Your best friend from your last job?...
MDMA, Maps, Meditation, Merica
Jul 31 • 13:47
Chad hijacks the mic to give a mini-life update. He and Steph talk about:...
Area 51 or Area 25?
Jul 30 • 11:37
You've probably heard of Area 51, but have you heard of Area 25? Today, Chad and Steph share the history of this lesser-known government facility. Plus, they dive deep into Chad's latest interview with Annie Jacobsen....
How Plagues Become Renaissances
Jul 29 • 12:12
Chad and Steph talk about:...
Grievance vs Gratitude
Jul 28 • 08:55
There are old pains that you are carrying within you. Rather than ignore them, explore them. In today's episode, Chad and Steph discuss how to turn those grievances into gratitude....
All Art is Propaganda
Jul 27 • 13:44
Are UFOs real? Are they fake? Or are these the wrong questions to ask all together? Today's discussion includes: ...